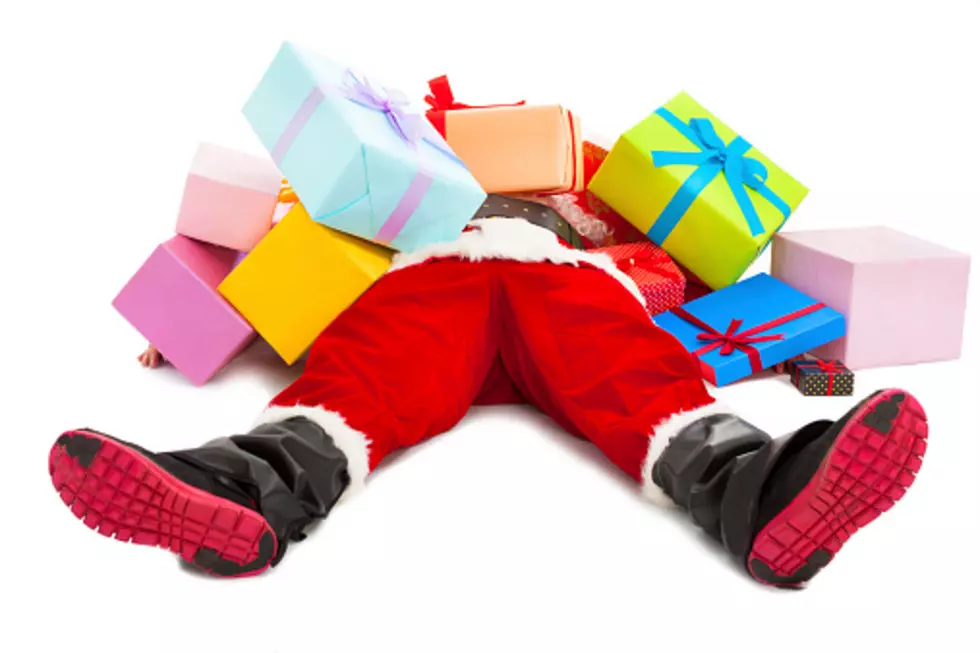 Put The Happy Back in The Holidays – 10 Simple Ways To De-Stress
Getty Images/iStockphoto
Cooking, shopping, decorating, baking, get togethers. The holidays can be fun, but they can also be stressful. We have some easy ways to keep the happy in the holidays. 
One of the main keys for keeping stress at a minimum is to plan ahead. Set a budget for gifts, write a schedule of when you will do your shopping.  Cook or bake as much as possible in advance.
You don't have to overdo it.  This is one I learned the hard way. Years ago I decorated everything in my house - my stairway, mantle, even mailbox. As I was packing up everything at the end of the season,  I felt overwhelmed and exhausted. Then I had a revelation. I realized that the the work outweighed my enjoyment, so now I just put up a tree and do a few decorations around the house and leave most of my thirteen boxes of christmas stuff unopened.  
My husband did the same. He used to put up lights on the house and bushes. It took a lot of time and quite honestly, he didn't really enjoy it.  Now we have one of those light projectors that we shine on the house. What a great invention. It looks festive and it saves us so much time and effort! Seriously, the holiday police are not going to arrest me if I don't do it all.
Of course, everyone celebrates differently,so choose the things you love and don't stress about the rest. Here are a few more tips to destress and really enjoy the holiday season this year.
1

Are your expectations for the holidays realistic? Asking yourself this question is the first step to managing holiday stress. Make a list of what you expect from yourself and your family during the holidays. Hidden within these expectations you might find your potential holiday stressors — the things specific to you that can cause stress.

2

Ask people what they want instead of scouring the earth to find the "perfect" gifts.Shop early, when there is more of a selection. Stick to your gift budget.

3

The holidays don't have to be perfect. As families change and grow, traditions and rituals often change too. Choose a few to hold on to, and be open to creating new ones. For example, if your adult children can't come to your house, find new ways to celebrate together, such as sharing pictures, emails or videos.

4

Try to accept family members and friends as they are, even if they don't live up to all of your expectations. Avoid sensitive topics, such as politics. Set aside grievances until a more appropriate time for discussion. Be understanding if others get upset or distressed when something goes awry. Chances are they're feeling the effects of holiday stress and depression, too.

5

Enjoy Time with Family and Friends

Simplify holiday commitments and traditions. Discuss with your family which traditions are most important to you and to them. It's okay to re-evaluate past traditions.Avoid time crunches by making plans to visit some friends and family soon after the holidays.

6

Keep the "You" in Yuletide

Allow time for yourself. Remember to do things that you enjoy. Treat yourself to a massage, go to a holiday show, read a good book, watch a funny movie.  Whatever makes you happy, make sure you have some time to enjoy it.

7

Saying yes when you should say no can leave you feeling resentful and overwhelmed. Friends and colleagues will understand if you can't participate in every project or activity. Don't abandon healthy habits and let the holidays become a free-for-all. Overindulgence only adds to your stress and guilt.

8

Acknowledge Your Feelings

If someone close to you has recently passed or you can't be with loved ones, realize that it's normal to feel sadness and grief. It's okay to take time to cry or express your feelings. You can't force yourself to be happy just because it's the holiday season.

9

Donate to a charity in someone's name. Give homemade gifts. Start a family gift exchange. Volunteer your time to help others. Call an old friend.

10

Although it is a busy time a year, try to fit in some exercise. It will give you more energy and improve your mood. On the flip side, make sure you get enough rest to be able to cope with all the extra activities.