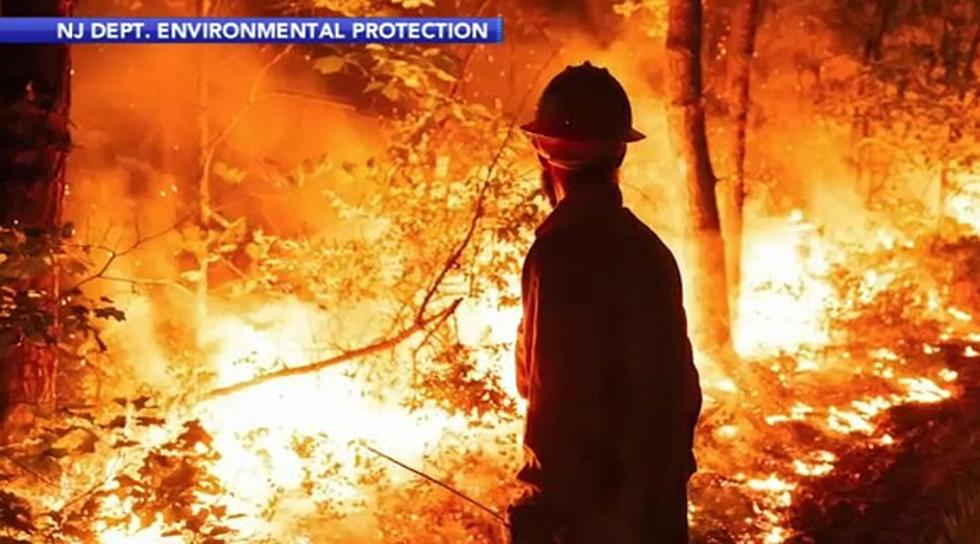 Smoke From Dragway Wildfire Noticeable Across South Jersey
NJ Dep't of Environmental Protection photo
The smell of smoke from the 1500-acre wildfire burning in Wharton State Forest was the first thing I noticed as I left my home in Margate early this morning.
The wildfire was nicknamed the Dragway Wildfire, because of its proximity to the now-closed Atco Dragway in Waterford Township, 48 miles away from my coastal Atlantic County home.
Townsquare Meteorologist Dan Zarrow says this morning's northwesterly wind direction is just right to blow the smoke toward the coast.
Firefighters say the blaze is burning in Camden and Burlington counties and has grown to 1,500 acres in size, but is 75% contained as of the latest update on Monday night.
The wildfire was first reported just after 2:45 pm Sunday.
Fire crews are now utilizing a backfire operation, which means they will intentionally set fire along the inner edge of the fire line to change the direction of the blaze.
"We'll be here for a few days. Looking at the extent of the fire and the weather forecast, there's very little precipitation shortly," said Jay Wyatt, section forest fire warden.
The cause of the fire is under investigation.
This is the thirteenth wildfire to break out in New Jersey this season, officials say.
Cold Cases: South Jersey's Unsolved Murders & Mysteries
50 South Jersey Restaurants & Bars That Only Take Cash