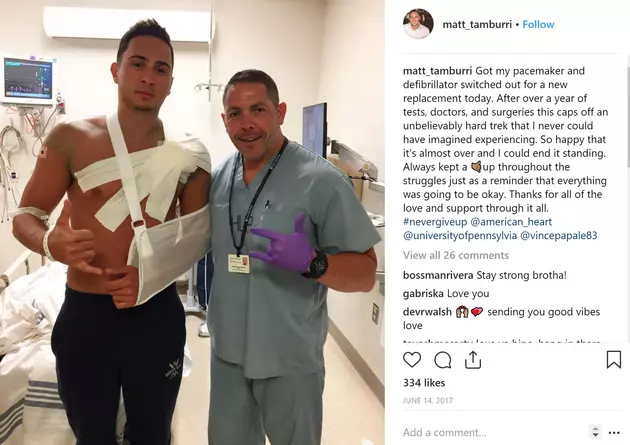 CPR Saves Life of 19-Year-Old in Cardiac Arrest (VIDEO)
Matt Tamburri after getting his pacemaker
At the age of 19, Matt Tamburri went into cardiac arrest and collapsed while playing football.  He was saved by a bystander who performed CPR and he encourages all of us to know this lifesaving skill. Here is his story in his own words...

"I have been fighting my fight for nearly 24 years. I was born with a misshaped heart and pulmonary stenosis, a thickened valve that does not fully open. The pulmonary valve allows blood to flow out of the heart, into the pulmonary artery and then to the lungs. My right ventricle is small and wrapped a little towards the back side of the heart.
At age 19, I became a Cardiac Arrest Survivor. In April 2012, my heart stopped for 15 minutes and I was put into an induced coma. I then had a defibrillator, pacemaker, and ASD closure device implanted. Since then I have had clotting in my subclavian vein, a pulmonary embolism, and multiple TIA stroke episodes due to clotting on my pacemaker lead inside of my right ventricle. I suffered head trauma from the stroke episodes and was unable to walk straight from February through August 2016
I am extremely thankful to be able to walk at the 2016 South Jersey Fall Heart Walk. I urge others to join me in fighting against heart and stroke disease by donating and walking...I will be the keynote survivor speaker at the walk...and would love for my family and friends to come support our cause in stopping this terrible disease that was just seconds from taking my life.
At 24 years old, I am proud to be a Cardiac Arrest and Stroke Survivor. It is now my job to help fight these diseases and to help other patients and families who are going through the same hardships my family and I have encountered over the years. By sharing my story, I encourage everyone to know the warning signs of stroke and to learn CPR in case someone around you experiences cardiac arrest."
Matt is now an American Heart & Stroke Association Executive Board Member & Speaker.  Check out his instagram page - @Matt_Tamburri.