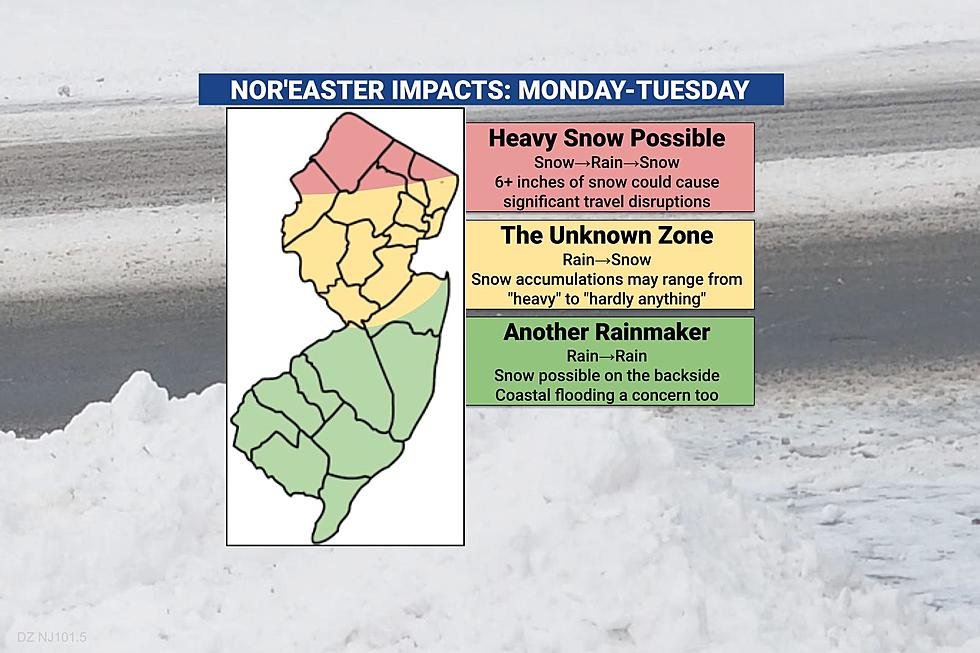 Will nor'easter bring big snow to NJ next week? 10 things to know
Latest general impacts forecast for Monday-Tuesday's nor'easter, as of Saturday afternoon. (Dan Zarrow, Townsquare Media)
UPDATE... This article is outdated...
For the latest storm forecast information, please refer to my newest weather blog post.
---
Introduction
As the calendar turned to March, Old Man Winter finally woke up. We have experienced three accumulating snow events in the last two weeks, after just four such storms through all of December, January, and February. The warming of the Pacific Ocean and the end of La Niña is partly to thank for the increase in stormy, active weather.
This weekend began with a burst of wintry weather in North Jersey. (Up to 6" around Sussex, Morris, and Warren counties.) And it will end with another, way more powerful storm system forming in our vicinity. Yes, for the first time this season, we have the very real potential for a major winter storm coming to visit. Big snow totals, blizzard conditions, strong winds, and significant flooding are all on the table.
However, as I have said so many times this winter, not everyone in New Jersey will see snow.
I will caution you that this is a tricky forecast situation, as the storm's impacts will be highly dependent on track and temperature. So we don't know much yet, and I have to play this out very slowly and carefully.. For now, I want to talk about potential timing and geography and put together some likely scenarios. As we get closer, forecast resolution will improve, and we will be able to piece together a more definitive and detailed forecast.

It is a nor'easter.
Let's call this storm system what it is: A nor'easter.
A classic "Miller Type B" nor'easter, as a matter of fact. That is when an approaching area of low pressure over the Great Lakes transfers its energy to a newly developing primary low off the coast. That powerful storm gains steam over the Atlantic, and can put out some incredible snow and wind.
A nor'easter is so named because of the strong northeasterly wind flow that affects much of New England and the Mid-Atlantic. I often use the term interchangeably with "coastal storm," which I find less dramatic and hype-ish.
Sunday will be fine.
Let's talk timeline.
We are actually in a quiet period of weather right now. As our most recent storm system departs, I expect no precipitation through Saturday night and at least the daytime hours on Sunday.
Expect a mix of sun and clouds on Sunday, along with light winds. High temperatures will reach no higher than the mid 40s, which is a tad below normal for mid March.
Monday goes downhill, but stays mainly wet.
The first part of this complicated storm system - the inland piece - will push into New Jersey from Sunday evening into Monday. Surface temperatures for the duration will be mainly above freezing. So for most of New Jersey, this period will be just rainy and wet.
Far northern New Jersey, above Interstate 80, would be the lone exception. There could be a bit of snow through Monday morning, possibly putting an inch or two on the ground. But even that should change to rain from midday Monday into the afternoon hours.
I do not anticipate that school closings, delayed openings, or early dismissals will be necessary on Monday.
Monday night to Tuesday will be the brunt of the storm.
Precipitation spread and intensity should increase again after sunset Monday. In addition, as we end up on the backside (the west side) of that coastal low, colder air will penetrate New Jersey's atmosphere. That will cause temperatures to drop, potentially below freezing.
Starting around midnight Monday night into early Tuesday morning, we will probably see a surging transition of rain to snow through at least the northern half of New Jersey. That's when things will get precarious, and travel conditions could become sloppy and slippery.
Snow will be heavy and wet. The icing threat seems low. If the wind kicks up enough, we could approach blizzard conditions for a time.
There are some big questions embedded in this time frame though. Exactly when will that flip happen? How far south will the rain-snow changeover occur? Will precipitation intensity be light, moderate, or heavy? How quickly will potential snow and ice accumulate, especially on road surfaces? Will we get dry-slotted, putting a sudden end to any wintry accumulations?
Tuesday is the day to watch for potential travel nightmares and school closings and delays, if the forecast trends snowy.
Someone, somewhere inland will get clobbered.
I am becoming increasingly confident that someone somewhere in the interior Northeast United States will get buried by two feet of snow from this storm.
But will that "someone somewhere" clip northern New Jersey? Or Poughkeepsie or Albany in New York? Or Hartford, CT? Or Worcester, MA?
According to the latest model guidance, all those options are on the table for becoming the "snow bullseye" Tuesday.
However, there is not a single forecast model that shows heavy snow as far down as Trenton or Philadelphia or Atlantic City. Yup, this will probably be another disappointing rainmaker for at least the southern half of New Jersey.
Coastal flooding and beach erosion are likely.
As the coastal low intensifies and strong winds blow out of the east-northeast, ocean water will surge toward the coast.
That will almost certainly cause flooding of tidal waterways for several high tide cycles in a row. Early ocean wave height estimates go as high as 9 feet, raising the threat for beach erosion. (A concern during every power nor'easter.)
We don't have a good picture of the magnitude of storm surge, water rise, and coastal flooding just yet, as reliable tidal guidance only runs 72 hours in advance. This is obviously a piece of the impacts forecast we will be monitoring very closely though.
Forecast confidence is low to moderate
No weather prediction is complete without a measure of confidence - how certain the forecaster is that a given situation will play out.
In this case, I think we are very confident that this storm will happen, and that it has the potential to cause strong impacts in New Jersey.
I also think we have a good idea of how the timeline will play out. Snow to rain to snow for far northern New Jersey. Rain to snow for most. Mainly rain south. Brunt of the storm holding off until Monday night.
But there are enormous question marks still surrounding the precise track of the storm, and that will have a direct impact on snowfall and overall impacts. In this kind of setup, a few miles "wiggle" in either direction can make all the difference in seeing heavy snow, light snow, or no snow at all.
So confidence is low regarding snow totals. I might even call it "very low" given all the variables in play. That is why I have not drawn a map or offered specific numbers just yet. It is pretty clear that any threat for "heavy" or "substantial" accumulations will be limited to North Jersey. But whether that will be 6" or 12", or more? And how far south will those dangerous travel conditions drift? To be determined.
This might be it.
It's March. The sun angle is increasing, day length is getting longer, and average temperatures continue to climb.
My observation and my mantra is that "big" snow storms are very rare past the Vernal Equinox, the official start of Spring. That is coming up on March 20, only nine days away.
Furthermore, long range models do not include any substantial winter storms on the horizon for the next week or two.
Colder than normal temperatures? Sure. A few minor bursts or snow and ice? Yeah. But another potential blizzard? Eh, I don't really see it.
What's next?
Our team is mobilizing into "Winter Weather Alert" mode, so we are ready to pass on critical information before, during, and after the storm.
I am planning to publish another full forecast update Sunday afternoon. I am hoping to draw a snow map (or a least a general impacts map, or maybe present some scenarios).
Keep in mind, Monday will be wet, not wintry. So we will have another chance to update the forecast and fit the puzzle pieces together.
As always, when the worst weather arrives Monday night into Tuesday, we'll have live and local updates around the clock, to keep you informed and keep you safe.
Dan Zarrow is Chief Meteorologist for Townsquare Media New Jersey. Follow him on Facebook or Twitter for the latest forecast and realtime weather updates.
Let it snow: 12 things to know about winter forecasting in NJ
BEEP BEEP BEEP: These are the 13 types of Wireless Emergency Alerts auto-pushed to your phone
The Wireless Emergency Alerts (WEA) system allows government officials to immediately and automatically push messages to all cell phones and mobile devices within a specific geographical area. There are a total of 13 types of messages that can currently be sent as a Wireless Emergency Alert. Nine of them are weather-related warnings, including one that is brand new as of August 2021.