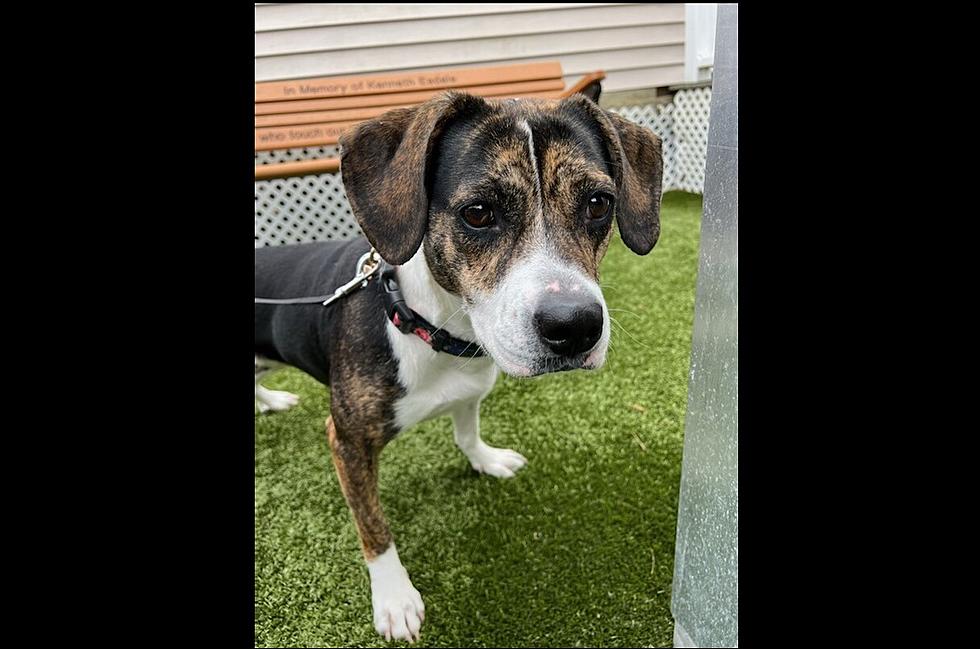 Sofie Acts Like a Hound, Barks Like a Beagle – Pet of the Week
Sofie/HSOC
Every Thursday morning at 7:10 am on the Lite Rock Morning Show, the Humane Society of Ocean City introduces the new Lite Rock Pet of the Week.
If you are thinking about adding a pet to your family, please consider adopting from the Humane Society of Ocean City, a no-kill shelter recognized as one of the nation's top ten animal shelters.
This week we met Sofie the dog.
Here's some information on Sofie from the Humane Society of Ocean City:
"Sofie is a 3-year-old spayed female, mixed breed. She acts like a hound and does bay like a beagle.
She will follow her nose when given the chance. She is a high-energy girl that will need plenty of walks and a yard to play in.
Sofie would love a family that goes hiking and maybe even camping. She is working on her manners and will need some work on leash walking and house manners. Sofie would do fine with kids with the understanding that she will knock little ones down.
Sofie needs a home without cats or small animals. She may be ok with certain dogs dependent on a meet & greet."
See the available Lite Rock Pets of the Week
If you would like to visit Sofie or need more information about any animal up for adoption at The Humane Society of Ocean City, call 609-398-9500 to make an appointment.
To adopt from the HSOC, you will need one form of identification, which includes your name, permanent address, and proof of ownership (i.e., local tax stub). If you rent, written approval from your landlord is required as well as personal identification.
Listen to Eddie Davis mornings on Lite Rock 96.9 and download our free Lite Rock 96.9 app
The adoption fee is $65 for cats and $325 for dogs under 6 months; $225 for dogs from 6 months to 7 years; $125 for dogs 8 years and over.
They accept cash, Visa, MasterCard, Discover, and debit cards. Checks are accepted upon management's approval. All adoptions include spay/neuter surgery, microchip if requested, and all necessary vaccinations through the first year.
South Jersey's Most Adorable Pets That Will Melt Your Heart
South Jersey's most adorable and cutest pets submitted to us by listeners
Vintage Wawa: A Look Back to the First Store & More