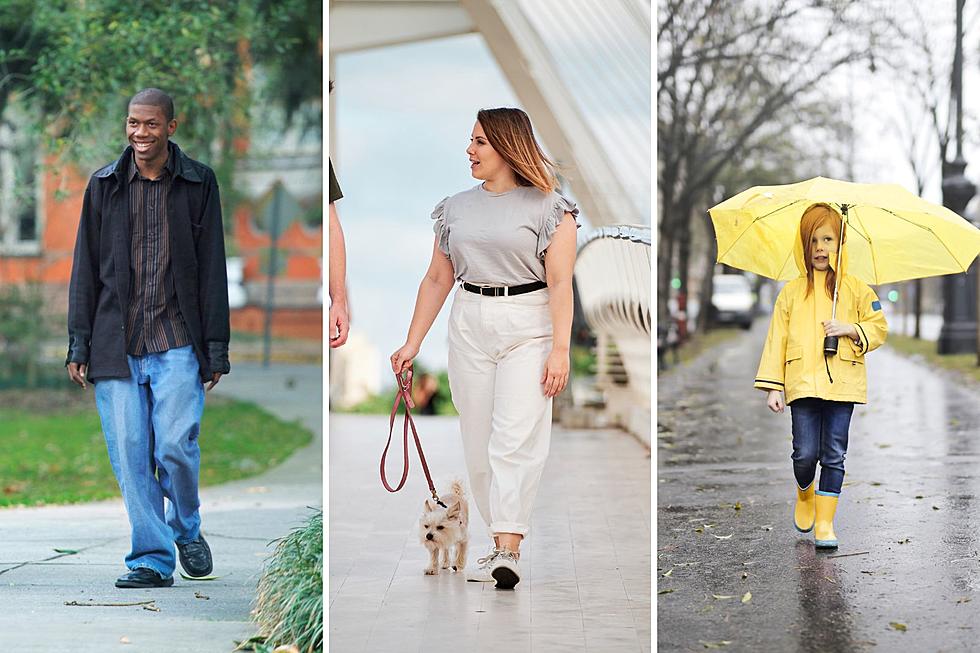 NJ weather: Breezy 40s Thursday, 50s Friday, stormy 70s Saturday
Cool. Mild. Rain. (Canva)
The Bottom Line
There's a lot to talk about in NJ weather news over the next three days. We will transition from a chilly, breezy day (Thursday) to a warmer, showery day (Friday) to an even warmer, stormy day (Saturday). Of course, all of those weather types classify as "typical springtime weather" for the Garden State. This is a season of variety and change.

Thursday
The first change is a cooldown, settling in Thursday. Overnight, a cold front introduced a "whoosh" of colder air and a few showers. Those raindrops have long since exited the coast. And the rest of Thursday will be completely dry.
Thermometers are starting Thursday in the 20s and 30s. And they will only peak in the mid 40s Thursday afternoon. That is about 10 degrees cooler than Wednesday. And about 10 degrees below normal for this time of year. More evocative of late February weather than late March.
While bright sunshine and dry air returns Thursday, we will have to deal with a chilly breeze. Blowing out of the northwest, occasionally hitting 20+ mph. That is not a strong wind, but definitely noticeable.
Wear a jacket, and you'll be fine.
Thursday night stays quiet, with a few clouds and calmer winds. Low temperatures will dip into the 30s.
Friday
Temperatures bounce right back into the 50s on Friday. In fact, I could even see a few 60s around inland South Jersey.
The first half of Friday looks great, as sunshine gradually gives way to clouds through the morning.
Sometime Friday afternoon, however, our next storm system will start to make its presence known. That means rain showers could creep in to northwestern New Jersey as soon as early Friday afternoon.
Not everyone will get wet Friday, and we should catch a lull of mainly dry weather Friday night.
Saturday
Saturday is tricky. Yes, you may have ample opportunity for outdoor activities to kick off April. But you will have to dodge raindrops, lightning bolts, and wind gusts.
First of all, Saturday will be the warmest day of the week. High temperatures are expected to range from the mid 60s (north and coast) to lower 70s (inland central and south). It could even be the warmest day of the season so far.
Dew points spike near 60. I don't think it will "feel" muggy at all. But the increase in warmth and humidity will be an important factor in Saturday's rain chances.
Saturday's occasionally wet, active weather will play out in three parts. First, pockets of rain are possible Saturday morning. I do think everyone in the state will get wet at some point here. And there could be some brief downpours around.
Second, most of Saturday afternoon breaks into partial sunshine. That's when temperatures will really cook, and you'll have your best shot at a period of dry weather.
Third, a cold front will spark a "grand finale" round of thunderstorms, likely between about 4 p.m. and 10 p.m. Saturday. The increased heat (energy), humidity (moisture) will lead to an unstable atmosphere, raising the potential for strong to severe storms. Gusty, damaging winds would be the primary concern. Of course, keep in mind, lightning is always a potential danger and should be respected.
Finally, it's important to mention that ambient winds will get pretty gusty too, both before and after a cold front passage Saturday night. Best estimate puts top gusts over 40 mph.
The risks of thunderstorms and gusty winds are significant enough to warrant a "yellow alert" icon on my 5 Day Forecast. It will be a "stay weather aware" kind of day, where you need to keep an eye on changing weather conditions and alter your plans as appropriate.
Sunday
Calmer, but cooler.
Temperatures will settle in the lower 50s Sunday afternoon, returning to (slightly) below normal levels. There won't be much to complain about Sunday, with sunshine counteracted by a stiff breeze. The day will be completely dry.
The Extended Forecast
Monday looks pretty good too. Still breezy, partly sunny, and 60s.
Another burst of warmth and unsettled weather is modeled to arrive Tuesday into Wednesday. Some of those infamous April showers, which we could see more of through the second half of next week.
Dan Zarrow is Chief Meteorologist for Townsquare Media New Jersey. Follow him on Facebook or Twitter for the latest forecast and realtime weather updates.
LOOK: Food and Personal Care Shortages We Could See In 2023
Learn about the 13 potential shortages that could impact stores in 2023, from produce and meat to snacks and beverages.
LOOK: 20 American foods that raise eyebrows outside of the US
Stac



ker
compiled a list of 20 unusual and uniquely American foods that might raise eyebrows outside the U.S.