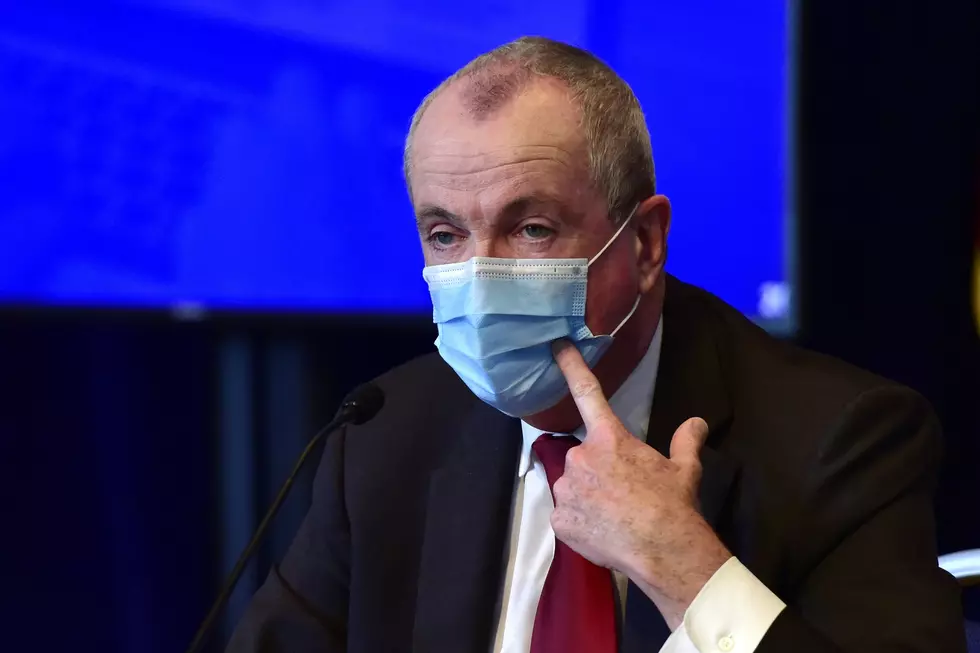 Murphy Enforces Stricter Gathering Limits After Covid Cases Spike
Gov, Phil Murphy wears a mask at a daily coronavirus briefing (Tariq Zehawi/The Record via AP, Pool)
New Jersey's COVID-19 restrictions have been eased and loosened the passed few weeks.
But after over 8,000 new COVID-19 cases were confirmed over the weekend, rules are about to get stricter once again in New Jersey.

Enter your number to get our free mobile app
Governor Phil Murphy announced that he lowered the number of people that are allowed to gather -- both indoors and outdoors.
Indoor Gatherings: The maximum that is allowed to gather together indoors is going from 25 to just 10 people.
Indoor dining capacity limits will remain at 25%.
When it comes to indoor weddings, funerals, movie theaters, performances, religious services and political activities, the maximum will remain at 25% of a venue's capacity or a cap of 150 people -- whichever is less.
Outdoor Gatherings: The maximum number of people that can gather is going from 500 to 150 people .
Outdoor religious services and political activities will have no capacity limit.
"It's gotten worse and it's gonna get worse," the governor said during an appearance on MSNBC. "So we've got to be honest with folks. Particularly with cold weather … with the holidays, this is going to get worse. Please God, it doesn't get to the levels that we saw in the spring."
Governor Phil Murphy also made a point to beg New Jerseyans to have a very small Thanksgiving celebration and to not travel.
"We're pleading with people to have a very small Thanksgiving with just your loved ones who you're living with," he said.
Murphy is also making one thing clear: he cannot promise that another lockdown in New Jersey won't happen.
"Do we reserve the right to shut everything down? Sadly, we have to with these numbers," he said.
These rules changes are also in addition to bars and restaurants not being allowed to serve indoor diners between 10:00 PM and 5:00 AM each day. Each individual governor does have the freedom to implement an 8:00 PM curfew if they see fit.
And what does Governor Phil Murphy have to say about the Pfizer Inc. vaccine that is allegedly 94.5% effective?
"The vaccine news is really good," Murphy said. That's great. But it's not here yet. We're in a heck of a fight. This thing is surging, and we've got to stay strong."
I know this is not the news you wanted to hear and by now, we are all so over it. But let's just try and remember that our actions will affect other peoples' health.
I am not saying that this is easy but it is necessary. The better we come together and act as a unified unit, the sooner this will hopefully pass.
Sending you nothing but love and support from Lite Rock 96.9 WFPG. 
Take a look at the original article at NJ.com.
Honoring Our Healthcare Workers