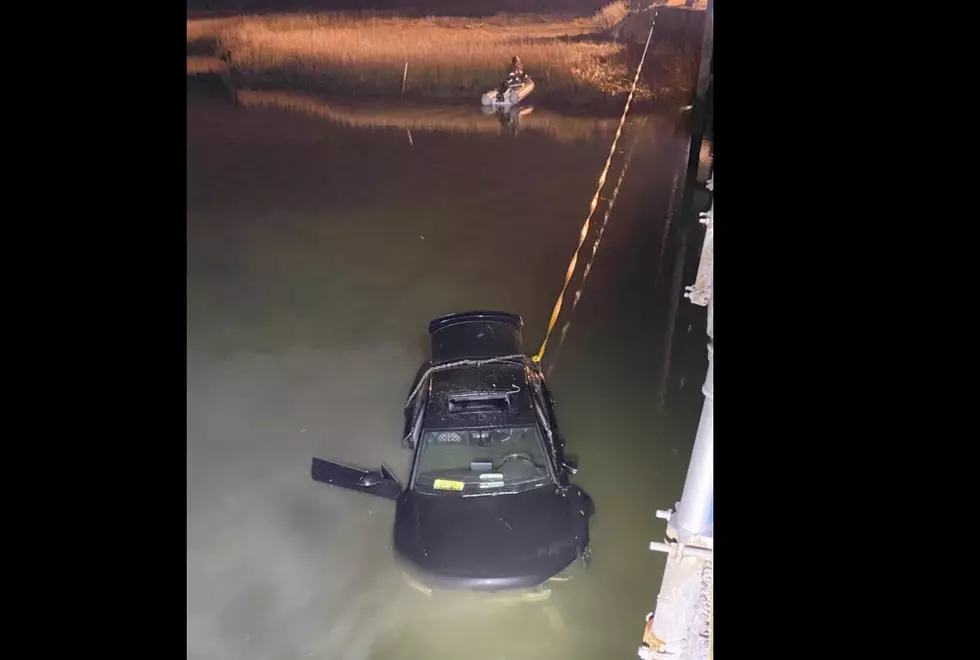 Margate Man Charged With DUI After Driving Car Into Bay [PHOTOS]
Bargaintown Vol Fire Company
A Margate man is facing DUI, reckless driving and other charges after driving his car into the Margate bay late thursday evening. See photos of the Margate and Bargaintown Vol. Fire Company's rescue teams working to pull the car from the bay.

Enter your number to get our free mobile app
According to Egg Harbor Township Police, around 11:10pm Thursday, Jan 14, a man driving a car along the causeway lost control and drove the car into the bay.  Police responding to the scene from Margate and Egg Harbor Township heard a man yelling for help.
Police searched the area around the Risley Channel Bridge and found a car and its driver under the bridge. The vehicle was partially submerged and the driver was out of the vehicle holding onto a bridge piling. The man was rescued from the water with a boat from the Margate Fire Department.
Egg Harbor Township Police say the car, a 2014 Audi, driven by John Abbott, 36, of Margate, was traveling east on the causeway when it crossed into the west bound lane and drove off the road on the west bound shoulder. The vehicle continued off road and entered the water. The vehicle eventually ended up under the Risley Channel Bridge.
Traffic on Margate Boulevard was shut down for approximately three hours due to the investigation and removal of the car from the water. Thee Margate Police and Fire Departments, the Northfield Police Department and the Bargaintown Fire Company assisted at the scene.
Abbott suffered minor injuries and was transported to AtlantiCare City Division by ambulance. He was issued summons for driving while intoxicated, reckless driving, careless driving, failure to maintain his lane, failure to keep right and having an open container of alcohol in car.
The fire and rescue crew from the Bargaintown Vol. Fire company took photos of the efforts to pull the car from the bay in Margate. See those photos below.
Margate & Bargaintown Fire & Rescue Crews Pull Car Out of Margate Bay