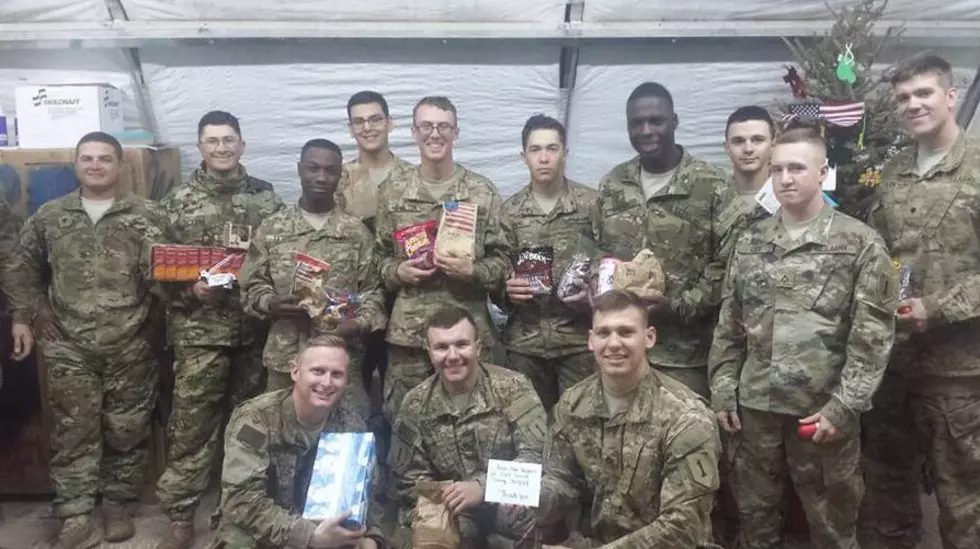 Lite Rock's Virtual Valentines For the Troops – Help Us Send Love
Operation Yellow Ribbon
For the past 16 years, Lite Rock 96.9 WFPG has been proud to send love to American soldiers serving around the world from South Jersey with Lite Rock's Valentines for the Troops 2022.

Until last year, we asked you to help by dropping off valentines cards, boxes of chocolates and supplies for our soldiers abroad and you always responded with tons of boxes of goodies that we sent overseas.
Again this year, with the lingering effects of the pandemic, it's not safe to hold such a collection at this time. But, we still wanted to remember the soldiers, some from right here in New Jersey, who are far away from home helping to protect America in the Middle East.
So, we will do the next best thing. Lite Rock's Virtual Valentines for the Troops! You can help us send love to American soldiers in two ways.
# 1- Make a donation We are teaming up again with Jersey-based Operation Yellow Ribbon to collect financial donations to be used to buy care package items the soldiers have requested, like bagged snacks, crossword puzzle books, eye drops, and personal hygiene items.
You can make a secure, tax-deductible donation on the Operation Yellow Ribbon PayPal link below or mail a check made out to "Operation Yellow Ribbon" to Lite Rock's Valentines for the Troops, WFPG Radio, 950 Tilton Road, Northfield, NJ. 08225
#2 - Make a video message Be a part of our montage video to the troops. Get together with friends or family and shoot a short video saying thanks and Happy Valentine's Day in your own way. Teachers...make a video with your class!!!
How to submit your video on the Lite Rock App:
Tap the 3 horizontal lines in the upper left of the App homepage
Then tap "Submit Photos/Video" in the dropdown to easily submit your video
Please do not use any recorded music in your video (it is a copyright violation) and try to keep it as short and as fun as you can. This would be an ideal classroom project, teachers!
Operation Yellow Ribbon is going to help make sure as many soldiers as possible get to see our video. We will also post the finished project on the Lite Rock App and web page for you to see, too!
Lite Rock's Virtual Valentines for the Troops.  We can use your help spreading the word about it, and, your generosity making it a big success for our American soldiers.
Schools, churches, and civic groups…we really need your help this year!
Thanks and Happy Valentine's Day!
This Might Be the Most Affordable Single Home In Ocean City
Magnificent Jersey Shore Home is Most Expensive Sold in 2021
Take a look at the most expensive house sold this year at the Jersey shore.