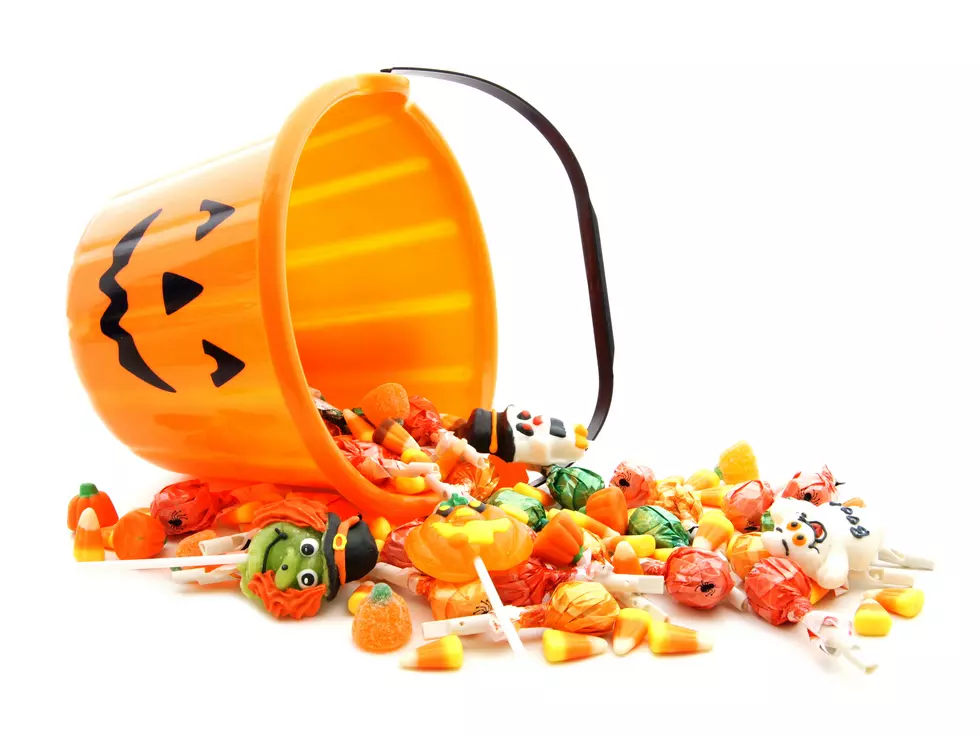 10 Healthiest Halloween Candies
Jennifer Barrow - halloween candy
Halloween is almost here. It's one of the most exciting times of the year for our kids and sometimes even adults  join the fun by dressing up and indulging in a little candy. While it certainly is not a health food, some candy choices are better than others. What are the best ones for us and our kids?
Well it all starts with reading the nutrition facts to know how much sugar or calories are in each piece.  Believe it or not, some of our favorite candies don't have as many calories or sugar in them as we think. We also needs take our kids teeth into consideration .
My daughter just got braces and the orthodontist reminded her that gummy sticky candy is the worst for our teeth anyway, but especially for braces.  If we simply pay attention to the labels, limit the amount we let our kids eat  and give out candy in portions, our kids can still enjoy their night in a slightly more healthy way.
Check out the 10 best Halloween candy choices for our kids:
1

These fun sized bars are the perfect treat to give out this Halloween. They are fluffy, light and sweet, for only 50 calories. Be sure to stop at two because you will start to rack up on calories after while!

2

Everyone wants to get their hands on some chocolate for this holiday. What about a chocolate candy that tastes sweet and gives you minty, fresh breath at the same time? York Peppermint Patties contain 165 calories, 3 grams of fat and 27 grams of sugar.

3

Do the tootsie roll this Halloween with an all time favorite sweet treat. These chewy, chocolate candies contain 50 calories, 1 gram of fat and 10 grams of sugar. Not so bad for a chocolate candy, so chew away this Halloween (unless, of course, you have braces).

4

No one in the world can resist these little guys. They are colorful on the outside and chocolaty on the inside. The best part is that they only contain 90 calories, 5 grams of fat and 9 grams of sugar in just one fun size pouch. Make sure to watch for kids that are allergic to peanuts.  If you are buying candy to give out, regular chocolate M&Ms are probably the best bet!

5

We love the sweet tropical flavor that we get when we pop a Jolly Rancher in our mouths and get this, they're actually low in calories. You can eat three Jolly Rancher candies for only 70 calories, 0 fat and 11 grams of sugar. So you or your kids don't have to feel guilty for indulging in these candies this Halloween.

6

This strawberry flavored treat is definitely a childhood favorite! You can chew on two of these babies for less than 100 calories and 0 grams of fat. Make sure to buy the fun size to give out to out to trick-or-treaters.

7

Reese's Peanut Butter Cups

Everyone loves the combination of peanut butter and chocolate together and these miniature cups can be super addictive. That's why it's smart to only eat a couple because each mini cup are 88 calories, 5.2 grams of fat and 9.3 grams of sugar. So be mindful when you're munching on them.

8

Next to to peanut butter, coconut goes great with chocolate.  Add these chocolate- covered-coconut candies to your list to put a smile on a child's face. There is 80 calories, 4.5 grams of fat and 8 grams of sugar in one snack size bar.

9

Break off a piece of that Kit-Kat bar for those trick-or-treaters knocking at your door. These chocolate crisp wafers are actually pretty low in calories and fat. One two piece bar is only 70 calories, 3.6 grams of fat and 9.2 grams of sugar.

10

We love these sour, yet sweet candies that have been around for a number years and get this, they're are extremely low in calories. You can indulge in three mini packs for just 30 calories, 0 grams of fat and 7.2 grams of sugar. So pop a couple of these bad boys in your mouth with no regrets.