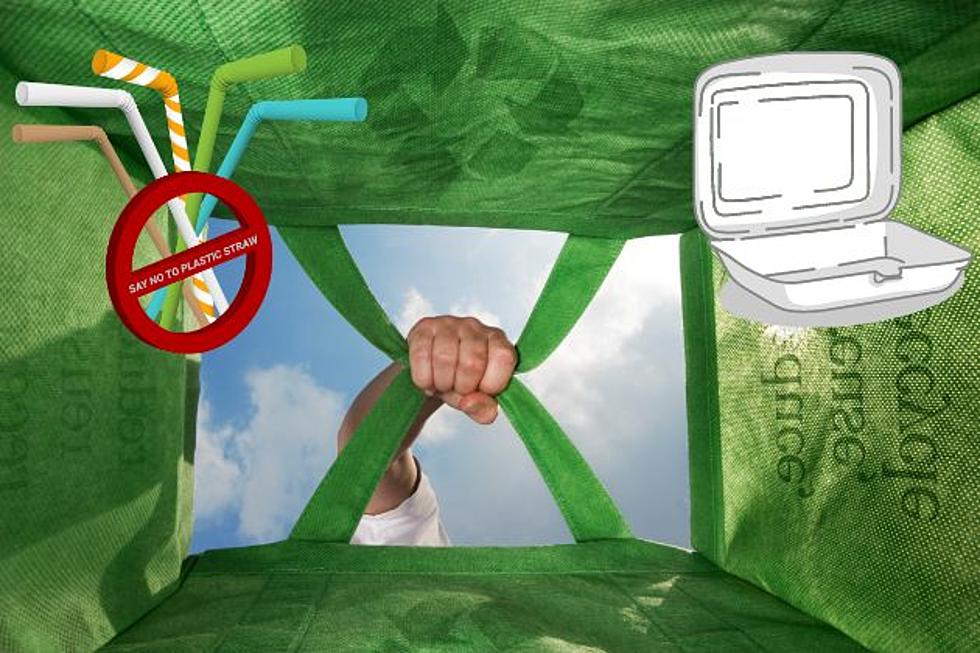 You've made it a year with no single-use plastic bags in NJ
Canva
⚫ Advocates say you can see the difference a year makes
⚫ Styrofoam is also banned, and plastic straws must be requested
⚫ There's work underway to create drop-off sites for reusable bags
---
Have you gotten used to walking into the supermarket with your own bags yet?
You've had a year.
May 4 is the one-year anniversary of New Jersey's prohibition on single-use plastic bags across the board, and on single-use paper bags at large grocery stores.
And it's believed that over that one year, the Garden State has eliminated 8.4 billion single-use bags from being distributed to shoppers.
"Before the single-use plastics law was enacted, it was commonplace to see plastic bags blowing around parking lots, getting tangled in trees and littering our precious waterways," JoAnn Gemenden, executive director of New Jersey Clean Communities Council, told New Jersey 101.5.
Coordinators of Clean Communities clean-up initiatives have noticed a "stark decrease" in the amount of single-use bags found, Gemenden said. NJCCC was part of the charge to educate the public and businesses about the law, which was signed in November 2020 and allowed for 18 months of preparation.
As an additional part of the law, New Jersey restaurants cannot provide customers with styrofoam containers for takeout. And plastic straws are only supposed to be given to customers upon request.
"I think the straw part is the least followed part of the law," said John Weber, Mid Atlantic Regional Manager for Surfrider Foundation.
Weber considers the bag portion of New Jersey's law to be a "raging success" in its first year.
"I think it's becoming a part of normal everyday life," he said.
Last year, for the first time since 2007, plastic bags were not part of the list of the debris most commonly collected by volunteers who participated statewide in "Beach Sweeps" events coordinated by the group Clean Ocean Action.
Pile of reusables
For now, official plans to tweak New Jersey's bag ban have been tabled.
Legislation introduced in 2022 would have given grocery stores the option to use single-use paper bags for delivery and curbside pickup orders. Also, entities would have been required to come up with a way for consumers to return or donate the reusable bags they receive with pickup/delivery orders and don't want.
"We do not support a roll back of the law that will undermine the proven success," Linda Doherty, president and CEO of New Jersey Food Council, told New Jersey 101.5.
NJFC and NJCCC collaborated earlier this year to create a "Blueprint for Reusable Bag Redistribution Plan." Through it, Doherty said, solid waste agencies, nonprofits, food banks, business groups, the state Department of Environmental Protection, and others will work to create drop-off and collection sites for reusable bags to be sanitized and recirculated for residents in need.
In late March, retail giant Walmart ended its no-charge distribution of reusable bags for delivery orders in New Jersey. Customers must now pay 42 cents per bag, or opt out and leave a tote or bags outside their door for drop-off.
Dino Flammia is a reporter for New Jersey 101.5. You can reach him at dino.flammia@townsquaremedia.com
Click here to contact an editor about feedback or a correction for this story.
LOOK: Here are the states where you are most likely to hit an animal
Hitting an animal while driving is a frightening experience, and this list ranks all 50 states in order of the likelihood of such incidents happening, in addition to providing tips on how to avoid them.
Biggest NJ company layoff notices in 2022 and 2023
In some cases, workers may be offered back their jobs or transfers to different locations.
Here's a look at more than a dozen of the biggest announcements within two years.