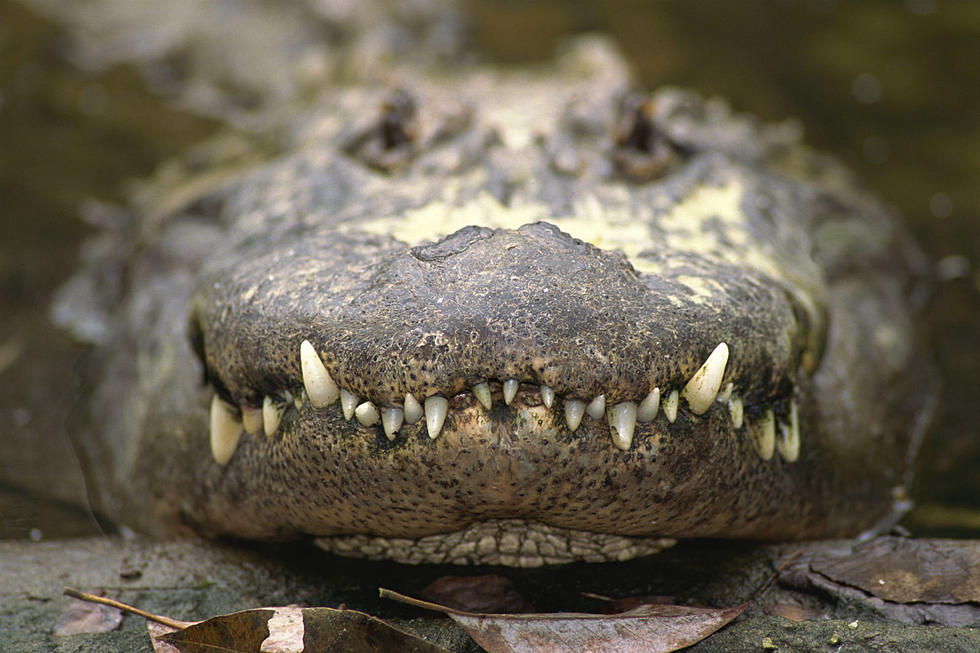 With gator loose in NJ, a list of animals banned in every state
An American alligator (Getty Stock / ThinkStock)
Where's Sam Quint when you need him? Middlesex Borough, New Jersey, is going through quite the drama but not in the form of a shark.
It's an alligator.
It's been spotted several times at Victor Cromwell Park's Lake Creighton. Some call it Duck Pond. Will it be called Gator Hole soon?
They say it's up to 4 feet long and could do some real damage if it wants to. Police already shot at it Saturday but apparently missed because it resurfaced again early Wednesday morning. It's now been over a week.
So many people were dangerously showing up to get a look at that officials closed down the park. I guess not everyone understands an alligator on land can come at you at up to 35 mph. You'll never outrun it.
Our paramount concern remains the safety of our community in the surrounding park and brook area," police said, because the alligator is "capable of inflicting serious or fatal injuries.
What annoys me about this is alligators are not indigenous to New Jersey. This didn't just show up. This must have been someone's illegal pet that finally got too big for its enclosure and the selfish jerk likely made it everyone's problem by releasing it to the wild. That's my guess anyway.
Alligators are highly illegal to own as pets in New Jersey, as are a lot of exotic animals. As onerous as the Garden State is with overly restrictive laws, when it comes to this we're not alone. Here's a list of some of the animals that you are not allowed to own as pets from every state.
When you get to New Jersey you'll see alligators and crocodiles are clearly illegal, along with some other animals that may surprise you. Read on.
LOOK: Here are the pets banned in each state
Because the regulation of exotic animals is left to states, some organizations, including The Humane Society of the United States, advocate for federal, standardized legislation that would ban owning large cats, bears, primates, and large poisonous snakes as pets.
Read on to see which pets are banned in your home state, as well as across the nation.
LOOK: Longest-living dog breeds
Opinions expressed in the post above are those of New Jersey 101.5 talk show host Jeff Deminski only.
You can now listen to Deminski & Doyle — On Demand! Hear New Jersey's favorite afternoon radio show any day of the week. Download the Deminski & Doyle show wherever you get podcasts, on our free app, or listen right now.
Click here to contact an editor about feedback or a correction for this story.