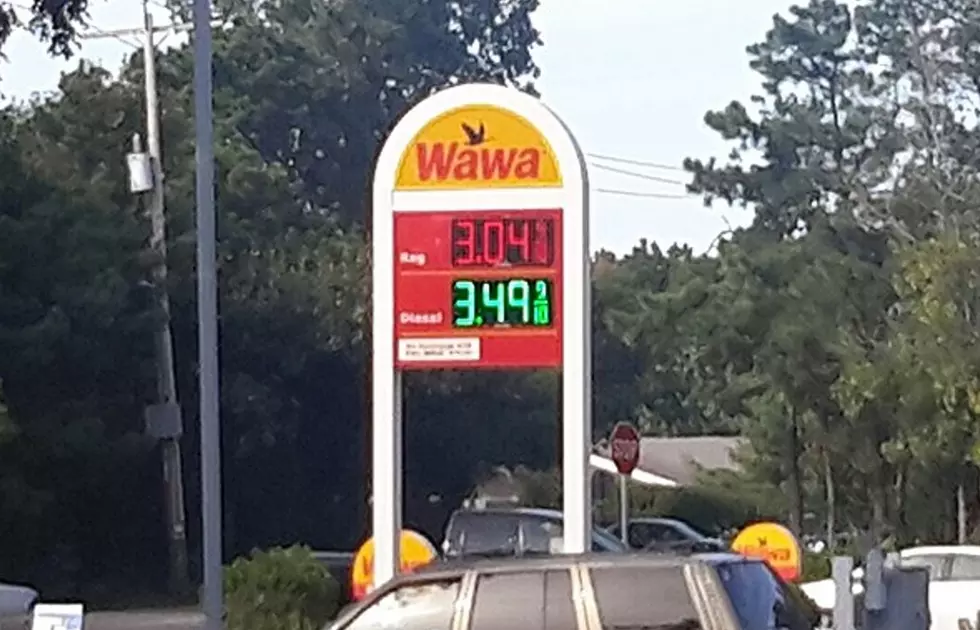 Wawa attendants once again go above & beyond pumping gas in NJ
Wawa (Dan Alexander, Townsquare Media NJ)
It's always nice when you're treated with respect and kindness when going to the gas station or convenience store. Even if it's over something small, those interactions can make all the difference.
Not all places are like that. In fact, far too many are probably staffed with people who are miserable and make it known when interacting with you.
But at the moment, let's put that aside and talk about not one, but two locations that I've been to where the employees are just top-notch. Yes, we can talk about those who might've messed up our orders, but those who go above should also be highlighted.
Both of these locations are Wawas in New Jersey, and both are locations I occasionally stop at to fuel up. In both cases, I have to really highlight the gas attendants.
Wawa of Lawrence Township
The first Wawa is in Mercer County along on Route 1 North in Lawrence Township, just before the I-295 interchange.
I sometimes go to this particular location after leaving the radio ranch. If I need gas it's usually one of my go-to places since it's right along the way for me.
I don't remember his name, but they have one attendant who probably has one of the brightest and friendliest personalities I've ever seen. Always smiling and genuinely friendly to talk to.
And if he remembers you, he may ask how you're doing and how your day's going. He's always in such a great mood and I sure hope that rubs off on others too. Aside from him, the staff overall here has also always been fantastic.
Wawa of Leonardo
The second Wawa location I've written about in the past. This location is in Monmouth County at the intersection of Route 36 South and Appleton Ave.
Once again, the gas attendants go above and beyond when it comes to how they define full service. That's one thing I noticed the last time, and now they've done it again (click here to read about that experience from my previous visit).
This time, however, I noticed this service being done for other vehicles since I just ran in for a coffee and wasn't at the pumps. Still, this was awesome to see.
The gas attendants were squeegeeing the windshields of the cars while they were filling up. In other words, they provided true full-service for their customers.
You don't see that too often, but this particular location seems to make it a practice to provide as close to full service as possible, which I'm sure many customers appreciate.
And same as the Lawrence location, the crew is also very friendly and in a great mood. The employees at both Wawa locations really do seem to set the bar high, and it comes across that way.
Great customer service at the pump
Even at the gas pump, great service can go a long way. Whether it's with a smile and friendly attitude, or a cleaning of the windshield, New Jersey drivers will take notice.
I wanted to take a quick moment to highlight these two locations simply because it's so much easier to talk about the bad instead of the good. It's also why it's important we all fill out those surveys handed to us at the conclusion of the transaction.
Having worked in retail myself, I can tell you first-hand that those comments do make it to the top level, then back to the employee. It does go a long way for those who really do provide exceptional service.
Yes, it's much easier to talk about a miserable experience. But not everywhere in New Jersey is like that, as the two examples above highlight.
It doesn't have to be at a Wawa or even a gas station. Just that place where someone went that extra mile and made all the difference for you.
With that said, where have you experienced exceptional customer service in New Jersey? Was it the establishment as a whole, or a particular employee? Feel free to give a shout-out to them in the comments.
Even more cutest pets in New Jersey — 2023
We asked for the cutest pets — and we got 'em! Here are some more of all the furry, scaly, feathery and wrinkly friends in the Garden State.
We've announced our winner here.
The 25 Most Popular Last Names in New Jersey