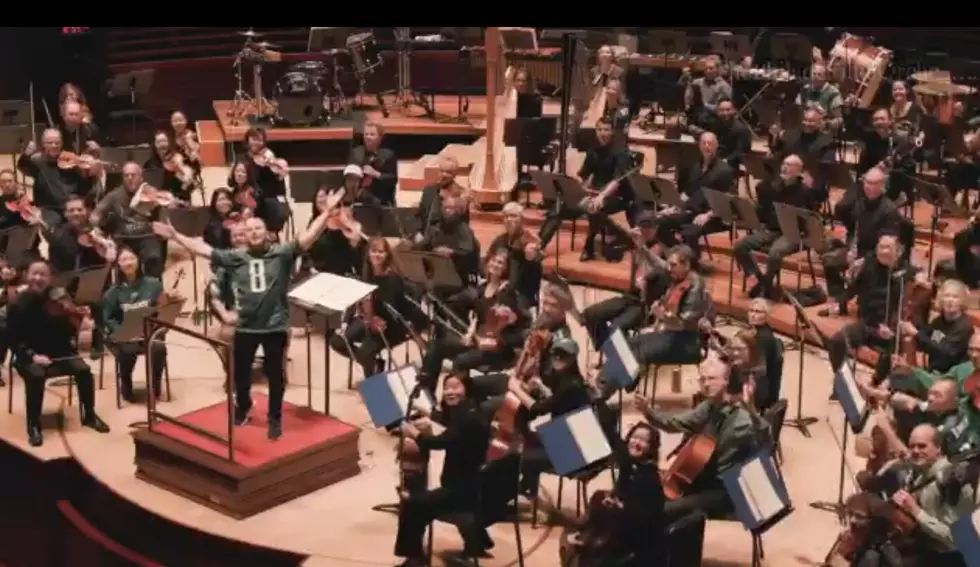 Watch Philadelphia Orchestra's Killer Version of 'Fly Eagles Fly'
Philadelphia Orchestra/ Twitter
"Hit 'em high, hit 'em low" has never quite this much pizzazz. The Philadelphia Orchestra celebrated the Philadelphia Eagles NFC East championship by recording their own version of the Birds fight song "Fly Eagles Fly".
Here's how the Philadelphia Inquirer classical music critic Peter Dobrin describes the Orchestra's new version.
Timpani drive the music forward and cymbals crash in the "Score a touchdown, 1-2-3" section, and then, for "Hit 'em high, hit 'em low," violins race across the field with a gee-whiz melody while the cellos take the stirring counter-melody.

The entire ensemble turns to the camera for "E-A-G-L-E-S – Eagles!" with a flourish of bows in the air.
Music director Yannick Nézet-Séguin even conducts in an Eagles, No. 8, Carson Wentz jersey.
The video was posted on Sunday, when the Eagles may have lost their star quarterback for the season due to a knee injury, that put a damper on the Eagles' win. The orchestra noted Wentz's injury in a tweet with the video...