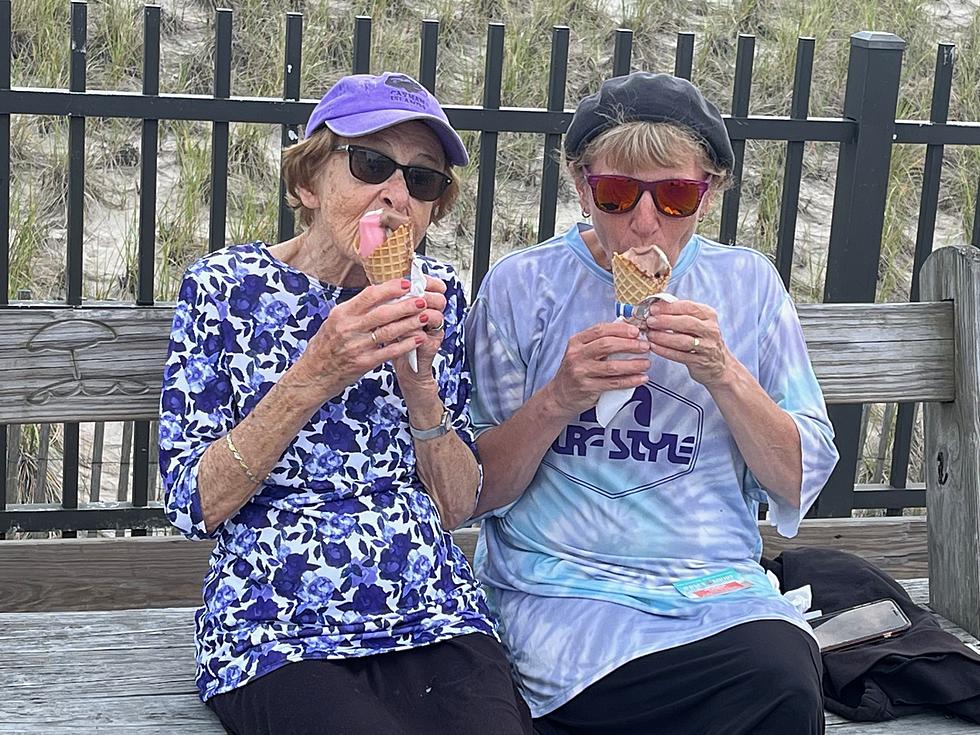 Sticker shock at the NJ shore — what you could pay for food, fun
Linda (right), of Teaneck, and her mother enjoy an afternoon ice cream cone on the boardwalk in Seaside Heights. (Dino Flammia, Townsquare Media NJ)
Four slices of pizza and two drinks? That'll be $34.
Most consumers understand that the price of everything has been going up since the coronavirus pandemic, as businesses deal with higher costs on their end, but there's still plenty of sticker shock when visitors make their first trip of the summer to the Jersey Shore.
Even a one-day trip to a boardwalk can be out of reach financially for many New Jersey families.
"The ice cream cone I'm holding here was, I think, $7.99. That's a big cone, but that's a lot of money for ice cream," Linda, who was visiting Seaside Heights from Teaneck, told New Jersey 101.5.
"A cheesesteak and drink ran me close to $20," said Sal Pally, of Freehold.
It's not just the price of food that shore visitors are noticing. The financial hit begins when they look for a parking spot — spend $10 or $20 for a day-long space, or park at a metered spot for a few bucks per hour?
"Prices this year are horrible," said Brick resident Paul Candrilli. "They're trying to make back their money, I guess, from COVID."
Consumers have been dealing with higher prices year-round, at the supermarket and hair salon, for example. But the reality hits harder during a shore trip, when families may feel like they have no choice but to shell out prices that are even higher than what they see at home.
"I have to get a part-time job while I'm down here," said Bordentown resident Alex Tillman, with three kids in tow on the boardwalk in Point Pleasant Beach.
The total may be hard to swallow when a trip includes parking, food, games, and rides. Bringing a family of four on to the sand? That can cost you another $40 or more.
"I think the prices have gone up too much," said Sandy, from Burlington. "I think they're too high for the average family."
Report a correction 👈 | 👉 Contact our newsroom
NJ county fairs are back! Check out the 2023 summer schedule
A current list of county fairs happening across the Garden State for 2023. From rides, food, animals, and hot air balloons, each county fair has something unique to offer.
(Fairs are listed in geographical order from South NJ to North NJ)
LOOK: Where people in New Jersey are moving to most
Stacker
compiled a list of states where people from New Jersey are moving to the most using data from the U.S. Census Bureau.