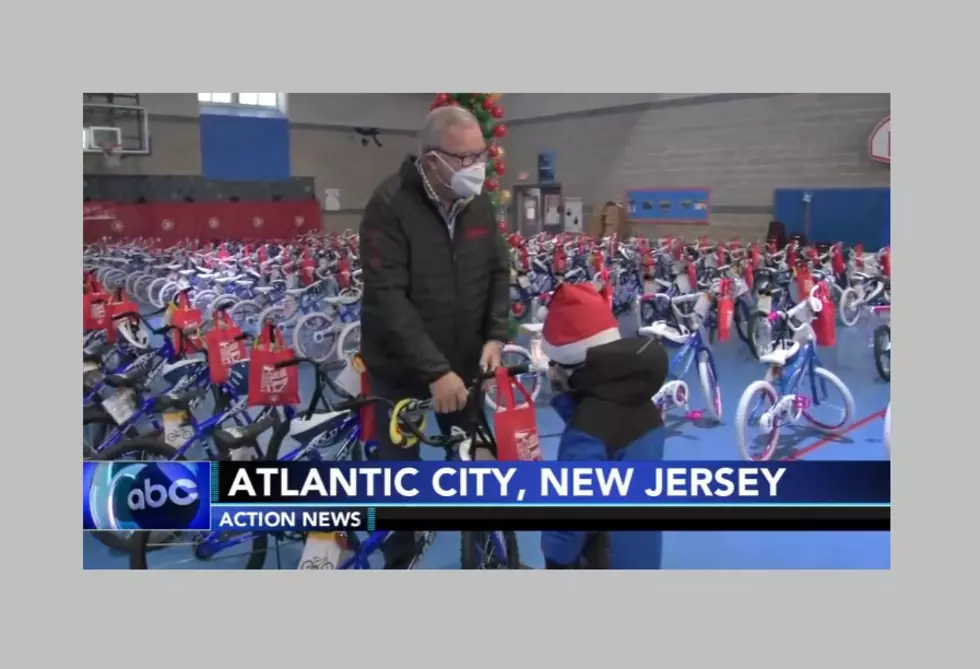 Ron Jaworski Plays Santa With 200 Bikes at AC Boys & Girls Club
6ABC
Santa Jaws?  Well, sort of. Former Philadelphia Eagles quarterback Ron Jaworski played Santa for 200 kids in Atlantic City on Tuesday with his 3rd annual "Jaws Bike Drive" at the Boys and Girls Club.

Enter your number to get our free mobile app
Jaws has multiple business and charity ties to South Jersey. His Jaws Youth Playbook supports youth and wellness, gave away over 200 brand new Huffy bikes Tuesday during an appearance at the Boys and Girls Club with his wife Liz and Atlantic City Mayor Marty Small, Jr.
The bike drive began in 2018 in the city of Camden, then benefitted children in Vineland in 2019. This year, it was Atlantic City's turn, as Jaworski told the Press of Atlantic City.
"There's need in Atlantic City. I try to move the bike drive around and have a positive impact around our region. I live in New Jersey. I have ties to Atlantic City, but my big tie is to kids. My foundation is all about kids and what we can do to put a smile on their faces."
Tuesday's scene at the Boys and Girls' Club of Atlantic City sounds like a mix of holiday spirit and Covid precautions, with a masked Santa on hand, Christmas carols blasting and parents watching as their kids tried out their new bikes inside the clubhouse.
A smiling Ron Jaworski summed it up this way....
"There is so much joy in seeing a child get their first bike! That's why I wanted my foundation to help brighten up these underprivileged kids' world over the Holiday Season. The pride of owning a bike encourages lifelong habits of exercise, outdoor activity and independence."
CHECK THEM OUT: 100 years of Christmas toys, gifts and fads