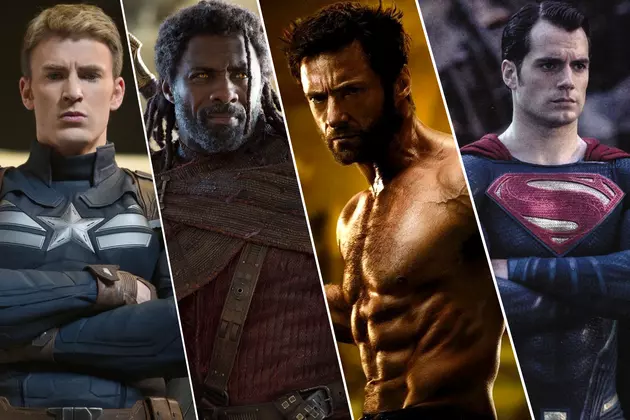 An Extremely Objective List of the Most Handsome Movie Superheroes Ever
Marvel / Fox / Warner Bros.
Chris Hemsworth. Idris Elba. Tom Hiddleston Mark Ruffalo. Karl Urban. Jeff Goldblum with a blue paint soul patch. Okay, maybe not the last one quite so much, but still: Thor: Ragnarok might be the greatest assemblage of hunky superheroes in film history. That is a lot of beefy rugged dudes for a single film. Which got us thinking here at ScreenCrush: If we were to assemble a list of the most handsome superheroes, across all eras and cinematic universes, who would we pick?
Cut to: A three hour debate on the ScreenCrush Slack. Things got very heated; arguments ensued, feelings were hurt, relationships were ruined forever. But when the dust settled, we have arrived at a top ten. Some very good looking men wound up on the outside looking in. Our apologies to Andrew Garfield, who was arguably too handsome to play Peter Parker, and to Chris Pratt, with his magnificent stubble. (Do you think he even knows what a razor is? We're honestly not sure.) It's still bugging a few of us that we couldn't find room for the late Brandon Lee in here. (Maybe you had to be a teenager in the '90s; we all wanted to be the Crow.) Like we said, the arguments over this list were intense. But eventually a consensus was reached.
Will you agree with our picks? Probably not. (Except on number one. Everyone agrees on number one.) Evaluating studly guys is more art than science. There are no wrong answers here. We invite you to submit your picks in the comments below or on Twitter. Now let's put on our bibs (you don't want to drool on your clothes) and let's begin:
Gallery – The Best Marvel Movie Posters: