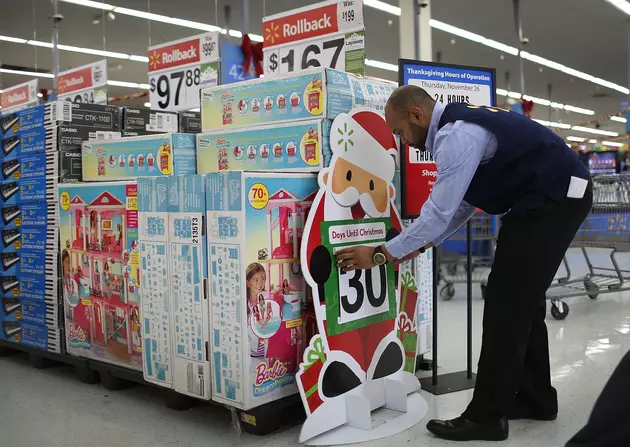 Looking for Holiday Employment? Here's Who's Hiring for the 2017 Holiday Season
Joe Raedle/Getty Images
The holidays are rapidly approaching. In fact, there are less than 75 days until Christmas! If you're in need of a part time/temporary gig for the holiday season, then this list is for you.
The holiday hiring season is in full force, and according to USA Today, here's a breakdown on who's looking to fill part time seasonal positions.
Macy's: Macy's will hire 80,000 workers for seasonal part time positions in store, work by phone, email and online chat. You can also get a 20% employee discount on merchandise.
Target: New employees will now make $11 per hour as the store will hire over 100,000 seasonal employees for the holidays. You can also take advantage of a 10-20%  discount on merchandise. A hiring expo will take place at various stores between October 13th and 15th.
JC Penney: 40,000 part time season positions are up for grabs this holiday season including  cashiers, make up consultants and workers for customer care centers. Employees also get a 25% discount on merchandise.  All stores will be participating in a seasonal jobs hiring event on October 17th from 2 PM to 8 PM.
Toys R Us:  Even though the company has filed for bankruptcy, it will be hiring for this holiday season including cashiers, stock associates and toy demonstrators will also be in demand.  The goal is to hire tens of thousands holiday workers.
Walmart: The retailer will first try to fill extra holiday hours form within. There will be positions open for the holidays for cashiers, stockers and personal shoppers.
Kohl's: Will also look to fill positions from within by offering extra holidays hours to workers. Over 69,000 temporary jobs will be available for the holiday season. Kohl;s will also offer a 15% discount on merchandise and some temporary propitiation will lead to permanent positions.
UPS: 95,000 temporary jobs will become available this holiday season. Positions include drivers, driver helpers and package handlers. Pay can vary between $10.20 and $32 an hour. Bonuses would also be available and some temporary positions will become permanent.
FedEx: Look for 50,000 positions to be filled including, drivers, package handlers and support position.  Some of the positions could also lead to permanent employment.
---
More From Lite Rock 96.9 WFPG: