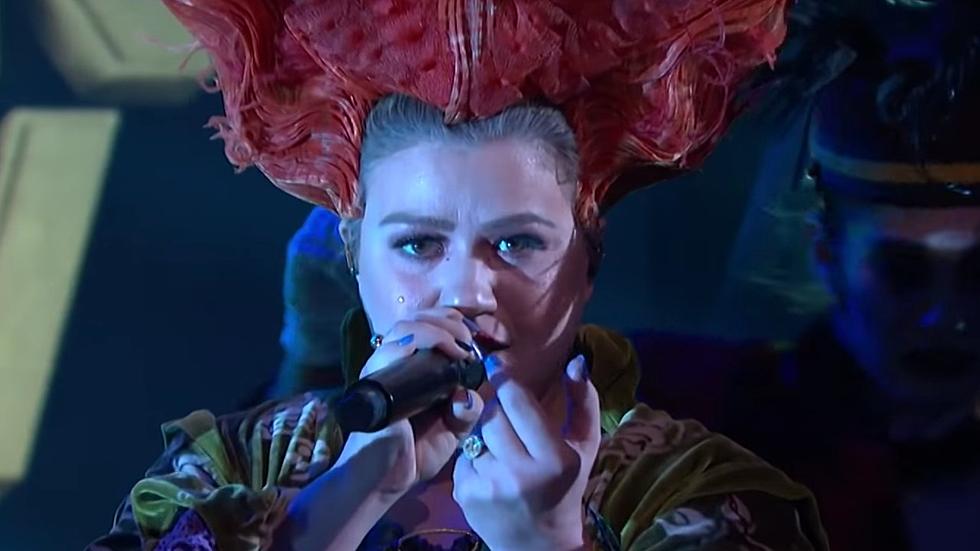 Kelly Clarkson's 10 Best Talk Show 'Kellyoke' Covers
YouTube
Think you're a karaoke star? Guess again — it's time to hang up the microphone, let go of your beloved "You Oughta Know" riffs and leave the craft of covering songs to the pros.
Leave it, friends, to Kellyoke.
And the jobs fits her like a glove: Not only does her sleepover approach to conversation immediately disarm her celebrity guests, and not only do her human interest segments draw tears from sandstone, she gives the people what they want.
She gives them song. And usually, the song belongs to someone else.
Yup, though Clarkson is many albums into her career, we'd be remiss to forget that it all started with a 2002 American Idol audition that included covers of Etta James and Madonna. Nearly two decades later, she's still routinely performing the works of others, and has even made covering songs a bit of a staple of her tours. And now that her act is plastered to TV screens daily, Kellyoke has officially taken over.
And, in the spirit of the season, let us give thanks.
Since the premiere of The Kelly Clarkson show this fall, Kelly's covered everyone from Prince to Post Malone; Cher to Taylor Swift and Aretha Franklin to...Mr. Rogers? And, every time Kelly kicks off the show with her newest performance (one day's genre is usually something completely different from the last), we remember that, she can, indeed sing the phone book. (You try following up "Bittersweet Symphony" with "Let Me Blow Ya Mind"!)
Below, we've collected Kelly Clarkson's 10 best Kellyoke covers with songs that range from raging rock tracts to nursery rhymes. Check 'em all out and — of the many songs Kelly's performed so far — tell us if you think PopCrush made the right picks!
10

If Prince turned in his grave upon this cover of his 1984 track, it's not because he was unsettled or disturbed, it's because he wanted a better view from the beyond. Kelly's cover does the original justice, and reaches a pleasing intersection of sexy and manic. Kelly's audiences are typically on their feet, but in this case, they'd hardly need a stage manager's instruction to get there.

9

'If I Could Turn Back Time,' Cher

Perhaps it's not as show-stopping as some of her more dramatic pursuits, but Kelly's take on Cher is joy wrapped in joie de vivre. That Kelly can make the 1989 track sound something other than a wedding reception request is heroic; that it sounds this good is the mark of an expert.

8

'Scars to Your Beautiful,' Alessia Cara

Leave Kelly alone with a bluesy mid-tempo number and she's likely to leave you with a demolition site. She doesn't deviate too much from Alessia Cara's melody, but her tone is too thick and meaty to ignore, and her addition of a crescendo to the bridge is simply *chef's kiss*.

7

'I Can't Feel My Face,' The Weeknd

It could have so easily been a gimmick, but Kelly's too good to be hokey. Her R&B instincts are front and center on The Weeknd's 2015 hit, complete with falsetto whips, hearty growls and enough upper-chest projection to help a ship set sail. If you liked "Miss Independent" you'll definitely be a fan.

6

'Why Haven't I Heard From You,' Reba McEntire

Kelly's mother-in-law is, of course, country legend Reba McEntire, but this cover's success is hardly the product of nepotism. The Meaning of Life singer, who many forget has a handful of country awards to her name (and was even nominated for Vocalist of the Year at the 2013 ACMs), takes to the track like a fish to water, and — in spots — leaves Reba in her dust. Uncomfortable holiday dinners forthcoming!

5

'Ride,' Twenty One Pilots

Kelly Clarkson delivering a Twenty One Pilots cover? It might seem kind of incongruous, but when people say this woman can sing the phone book, they mean it — the contemporary reggae-tinged rock song's suddenly a '90s punk-funk track under Kelly's command. It's big and bold but still smooth, and something you might hear during a dance sequence in Empire Records.

4

The famously face-obscured star gets a run for her money here, in which Kelly finds no trouble spitting out big belts like a specialty tannery. Lungs of steel must be tough to get past the TSA...

3

'I Put a Spell on You,' Screamin' Jay Hawkins

Kelly didn't need to assume the identity of a witch to deliver a performance that's simply magic. It's dirtier and more unhinged than the original, but that's precisely the appeal, and who can knock Kelly for a Hocus Pocus throwback? Put aside Kellyoke: This is one of Kelly's most memorable performances in years.

2

Carrie Underwood's most famous Idol performance is sadly reduced to dust thanks to Kelly's booming set that swells like a sea storm. Even with the offbeat feature of some tone-deaf fans, it's still something to behold.

1

'Won't You Be My Neighbor,' Fred Rogers

The song choice may seem a bit out of left field, but that's pretty much Kelly: Avowed Idol fans will remember that Kelly's most memorable performance in the competition was a big band number called "Stuff Like That There" (???). No artifice, no pretense: This is just beautiful music sung through a truly fine-tuned instrument.