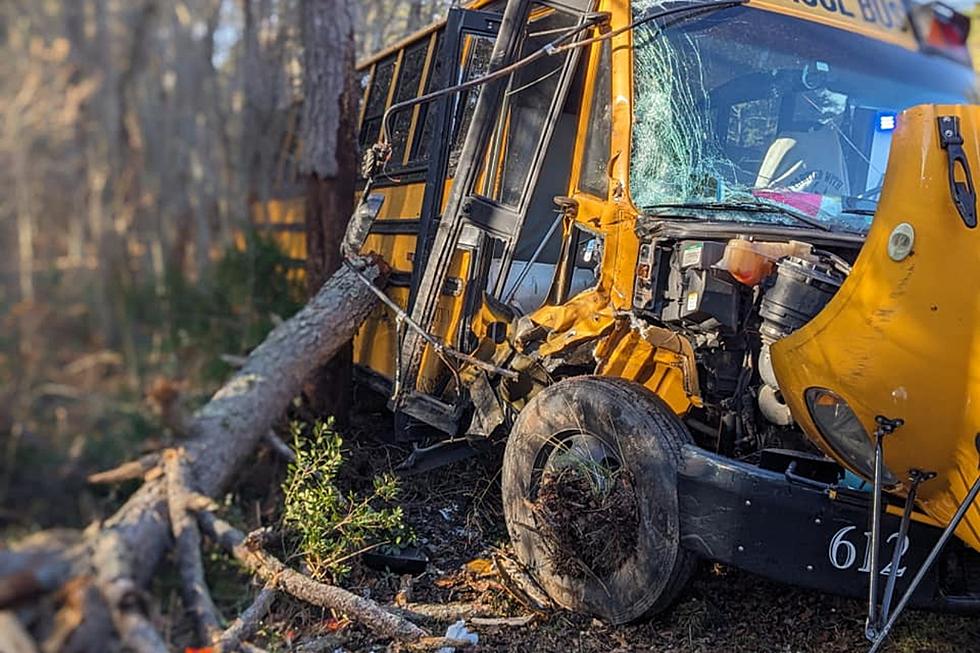 3 School Bus Accidents in New Jersey This Week, Total of 9 People Injured
School bus-pickup truck crash in Mullica Township NJ - Photo: Elwood Volunteer Fire Company Station 160
Three different accidents involving school buses in New Jersey this week injured a total of nine people, including three children.

Luckily, no serious injuries were reported in any of these crashes.
Parkway crash
The first accident happened Tuesday on the Garden State Parkway in Ocean County.
In that crash, six people were hurt when a small school bus overturned, including the driver of the bus, an aide, three students, and another person in another vehicle.
Details on the other vehicle referenced in a report from 6ABC were not known.
Crash in Atlantic County
In the middle of the week, a pickup truck collided with a school bus at Weekstown Road and 7th Avenue in Mullica Township.
Looking at the pictures, one might assume there were some very serious injuries, but here's the good news: there were no children on the bus at the time of the accident and both drivers sustained only minor injuries.
Cape May County crash
One person was hurt when they crashed into the back of a school bus in Dennis Township on Thursday.
State Police said an investigation found a Chevrolet Malibu rear-ended the bus on Route 50 near New Jersey Avenue.
The driver of the Malibu suffered minor injuries and was taken to a local hospital. There was no report of any injuries of anyone on the bus.
These are the best NJ high schools for sports
Stacker
put together a list of the best high schools for sports across New Jersey — using data from Niche that included sports championships, family surveys, student enrollment, athletic participation rate and sports options. Here's the top 25.
Gallery Credit: Stacker
Top 30 school districts in NJ spending the most per pupil
These are the most expensive school districts in the state of New Jersey. Based on 2022-23 school year budget and enrollment figures, these are the districts spending the most per student. We only included districts with at least the state average enrollment of about 2,000 students.
Gallery Credit: New Jersey 101.5