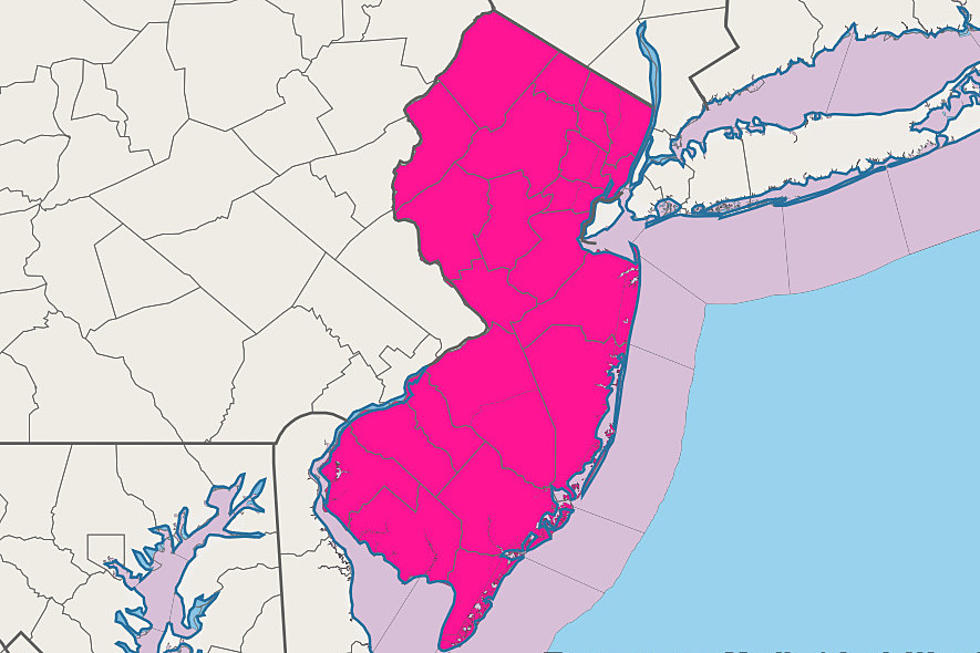 What in the world is a 'Red Flag Warning' and why should NJ care?
Red Flag Warning. (Townsquare Media / AerisWeather)
The Details
The National Weather Service has issued a Red Flag Warning for all 21 counties of New Jersey, from 10 a.m. to 8 p.m. Sunday.
What Is It?
Bottom line: A Red Flag Warning cautions of high wildfire danger.
Specifically, the combination of dry air, dry brush, and strong winds raise the concern for wildfire growth.
Even more specifically, the following criteria trigger a Red Flag Warning:
—Relative humidity of 30% or less
—Wind speed or frequent gusts of 20 mph or higher
—10-hour fuel moisture of less than 10% (that has to do with the water content of brush, which serves as "fuel" for a wildfire)
It does not mean the Pine Barrens will spontaneously combust. But dry, windy conditions can lead to rapid spread of wildfires. And could make firefighting efforts exceptionally difficult.
Yes, the wildfire danger is mitigated due to some recent rain and snow soaking the ground. However, the other two ingredients of the fire danger formula — strong winds and dry air — are just as important for explosive wildfire growth. Hence the warning.
Personally, I am not a fan of the name this alert was given many years ago. Especially since many New Jerseyans relate "red flag conditions" to rough surf at the Shore, rather than high fire danger. Something like "Fire Weather Warning" or "Fire Danger Warning" would be much more descriptive and user-friendly.
What Should You Care?
Outdoor burning is a terrible idea on days like this. That includes a casual flick of a cigarette. That includes fireworks. That includes controlled burns by the NJ Forest Fire Service, which could rapidly become uncontrolled. (Prescribed burns are cancelled on high fire danger days, so any smoke or flames you see should be considered a real fire.)
Stay alert to any suspicious activity regarding visible flames, smoke, or burning smells too.
For the average New Jersey resident, a Red Flag Warning means absolutely nothing. But if your day will involve a flame or a spark or any other activity in a local forest, please just play it smart.
Dan Zarrow is Chief Meteorologist for Townsquare Media New Jersey. Follow him on Facebook or Twitter for the latest forecast and realtime weather updates.
LOOK: Lakewood, Brick wildfire a 'near catastrophe'
A forest fire near the Jersey Shore that shut down the Garden State Parkway, sent neighbors fleeing and led to a firefighter's hospitalization in critical condition was "a very, very near catastrophe," authorities said a day later on March 15.
Wildfire in the Bass River State Forest in Little Egg Harbor 5/16/21
A fire in the Bass River State Forest burned through woods along Route 9 in both Ocean and Burlington Counties.
2022 Wharton State Forest Fire
Arial photos of the 2022 Wharton State Forest Fire.