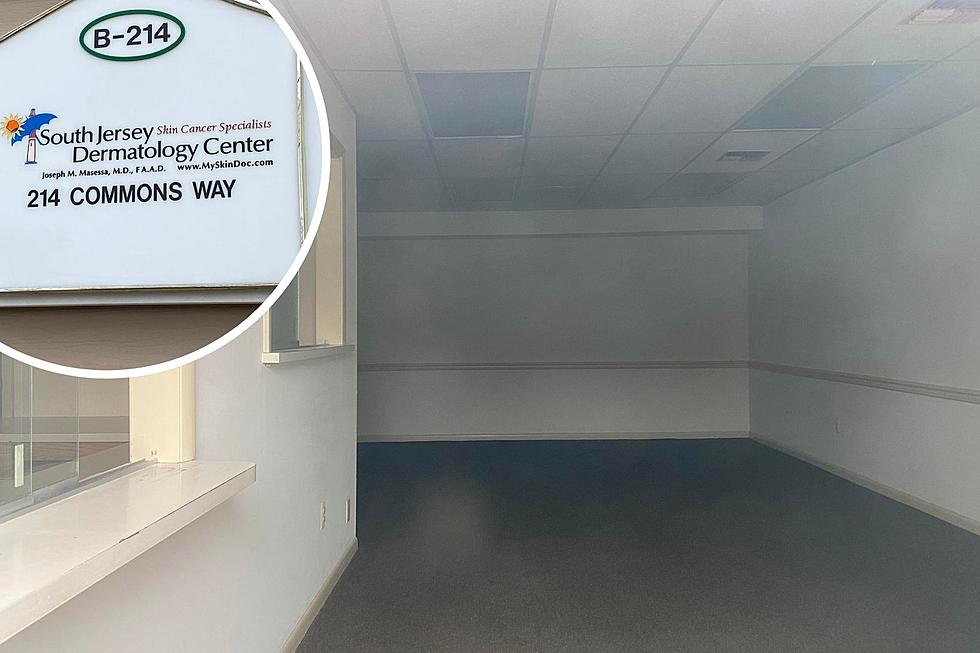 South Jersey Dermatology Center closes without warning: Patients remain in limbo
Empty offices of South Jersey Dermatology Center in Toms River (Listener submitted)
The South Jersey Dermatology Center closes suddenly
Frustrated patients of an Ocean County dermatology center that suddenly closed its doors without explanation in February may finally get access to their files.
The South Jersey Dermatology Center, with locations at The Commons off Route 37 in Toms River and Route 72 in the Manahawkin section of Stafford, have not been open since mid-February when "closed today" signs went up on the doors.
Owner Jeff Masessa told New Jersey 101.5 that the offices were forced to close because the sale of his company, the Adult and Pediatric Dermatology Group, which also has locations in Florida and South Carolina, went bad. As a result, his company no longer had access to their offices.
Maessa said he had a signed asset purchase agreement allowing Schweiger Dermatology Group of New York to take full control after Feb. 17. Maessa told New Jersey 101.5 he would supply a copy of the agreement but never did and has not responded to subsequent messages.
That's where Maessa's story seems to unravel.
Never had an agreement
Schweiger spokeswoman told New Jersey 101.5 in an email there was no agreement ever signed.
"Schweiger Dermatology Group was in discussions with Adult and Pediatric Dermatology Group about a potential transaction, but the transaction was not consummated for business reasons. As such, we have no affiliation with Adult and Pediatric Dermatology Group and are no longer in discussions with the current owner. Any questions related to this practice should be addressed to current management," Fink said.
When asked why Maessa would say has had a purchase agreement Funk reiterated "we have no affiliation with this practice."
Maessa also told the state Division of Consumer Affairs that the closure was only temporary after receiving "numerous complaints." However, a photo purported to have been taken Feb. 23 by a New Jersey 101.5 listener shows empty offices.
Where are my files?
Since New Jersey 101.5's March 8 report about the center, frustrated patients have sent emails about a lack of response about their files and the future of the office.
Division of Consumer Affairs spokesman Rick Rowan said Thursday that Maessa told the Board of Medical Examiners he is working to provide as much information as possible to all patients by way of a patient portal set up for patients to access their records. Pateints will be notified via the email address on file on how to access the portal.
"He is working with patients on an individual basis if they need to pick up records in person," Rowan said. "According to board regulations, a physician has 30 days from the time the patient requests the records, or promptly in the event of an emergency, to provide patient medical records."
A patient of South Jersey Dermatology Center Thursday afternoon told New Jersey 101.5 he had not yet received an email.
Masessa took over the business when his brother, Dr. Joseph Masessa, died in a Florida plane crash in 2019. His name remains on signs in the parking lot and on the practice's door in Toms River.
Dan Alexander is a reporter for New Jersey 101.5. You can reach him at dan.alexander@townsquaremedia.com
Click here to contact an editor about feedback or a correction for this story.
Up or down? Average property tax changes in NJ in 2022
Below are the average property tax bills for every municipality in New Jersey last year.
The towns are listed from the biggest cut in the average bill to the highest increase. On the county maps, the deeper red color means a higher increase above 2% whereas the darker green signifies a smaller increase or a reduction.
Each listing also shows how the average tax bill is split among the county, school and municipal governments.
Weird things NJ taxes - and some they don't
In general, New Jersey assesses a 6.625% Sales Tax on sales of most tangible personal property, specified digital products, and certain services unless specifically exempt under New Jersey law.
However, the way the sales tax is applied in New Jersey sometimes just doesn't make sense.
New Jersey puts out an itemized list for retailers that spells out what is, and what is not, taxed.
Perhaps because this is New Jersey, there are some bizarre and seemingly contradictory listings.
How much your school district gets under Murphy's proposed 2024 budget
Gov. Phil Murphy's porposed 2024 budget includes $1 billion in new spending for school funding including pre-K funding, pension and benefits, and an additional $832 million in K-12 aid, which is listed below by county and district.