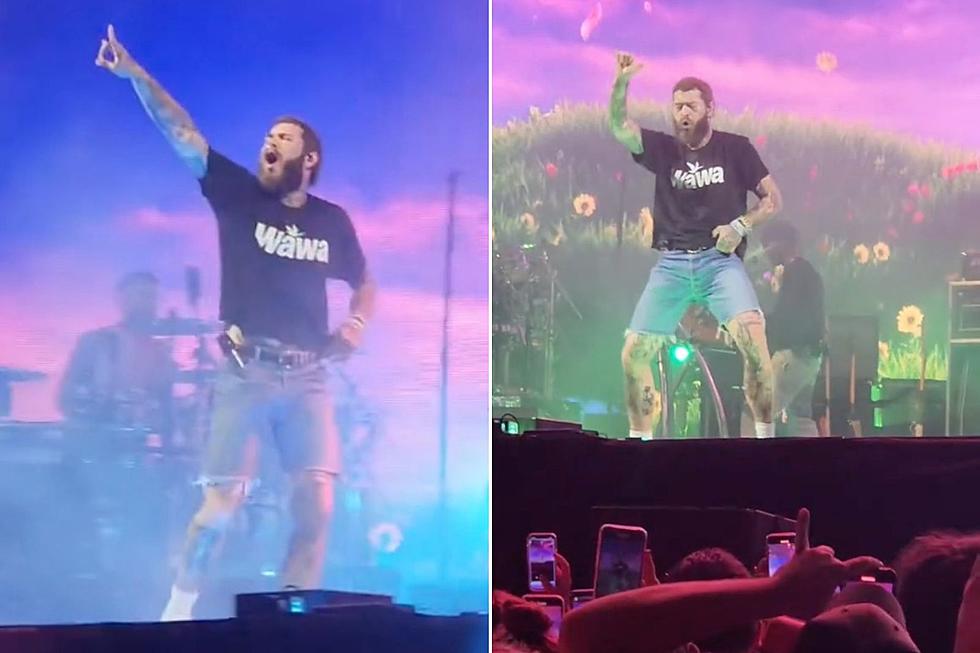 Post Malone Just Wore Wawa Swag in Sheetz Territory, And Now He's One of Us!
Credit: TikTok @lvincent85
This simple, yet powerful thing makes me love Post Malone even more!
Post Malone just brought the house down earlier this week on his sold-out Pittsburgh stop of his "If Ya'll Weren't Here I'd Be Crying" tour.

And he was killing it on stage at The Pavilion at Star Lake on Wednesday night. Absolutely putting his heart, body and soul into his performance as he struts to and fro on stage, amping up his adoring crowd as the beats boom!
But wait! There's something more to this euphoric image... Some familiar lettering flashes from his black t-shirt, and it in a split second, it's instantly recognizable. What's that logo we see?
Yep. He's wearing a Wawa shirt. We love to see it!!
You may be thinking, "So what? It's just a shirt." If you are, you're not from New Jersey. Or Philly. Because otherwise, you'd know that Wawa is not simply just a convenience store around here. It's a way of LIFE! And even though they're expanding in other regions of the country, Wawa is, and forever more will remain, quintessentially New Jersey and Philly.
In short, when you put on Wawa gear, it's the equivalent of saying "This is where I'm from!" So it's pretty cool to see Post wearing Wawa swag in Pittsburgh... IN SHEETZ TERRITORY!!
The venue even poked some fun at him for his wardrobe choice! Take a look at the subtle shade they threw his way!
In case you're wondering: Is Post Malone from New Jersey?? Nope. And he's not from Philadelphia either. He's from Syracuse, New York. Somewhere along the way, Wawa must have had some sort of impact on him, because that's just how Wawa is!
As far as I see it, this makes him one of us! Wawa: 1, Sheetz: 0.
In case you missed it, Post Malone will be at the Freedom Mortgage Pavilion in Camden on July 25! Maybe he'll wear a Wawa shirt then? I hope so!
Post Malone Freedom Mortgage Pavilion Camden, NJ July 25
Come home to us, Post!!
---
Here Are The Hottest Shows Coming to The Freedom Mortgage Pavilion (BB&T Pavilion) in Camden, NJ 2023!
Grab your tickets for these hot shows happening in Camden, New Jersey this summer!
Everything You Need to Know For Concert Season 2023 at Freedom Mortgage Pavilion in Camden NJ
Heading to Freedom Mortgage this summer? Here's what you'll need to know!