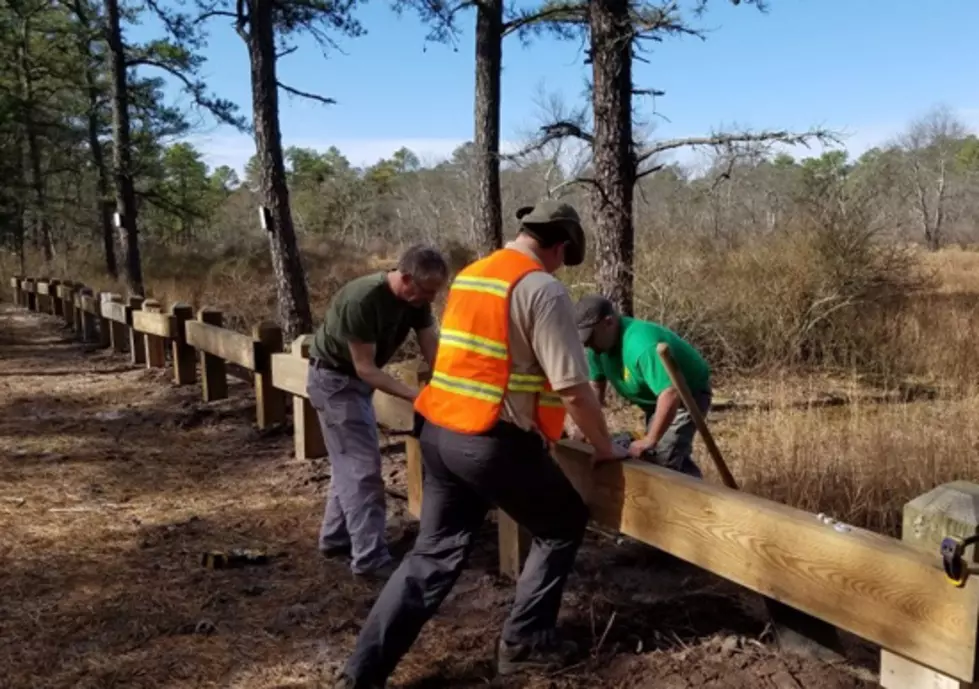 NJ's solution for the drivers destroying Wharton State Forest
Installing a barrier around an intermittent pond in Wharton State Forest (NJ Dept. of Environmental Protection)
In the heart of the Pinelands National Reserve, Wharton State Forest is dotted with a series of ecologically-sensitive areas known as intermittent ponds — temporary bodies of water that are home to many of the region's unique animal and plant species.
And people are destroying them.
It's perfectly in line with the law for off-road vehicle drivers to cruise the forest's sand and gravel roads, which have been in place for centuries. But, according to the New Jersey Department of Environmental Protection, riders are known to abuse the privilege every now and then and take "off-roading" to another level, seeing how their vehicles fare in the shallow depressions.
"These intermittent ponds are really important ecologically; they serve as a breeding habitat for a number of amphibian species, primarily frogs," DEP spokesman Larry Hajna told New Jersey 101.5. "They also provide habitat for a lot of plants that are unique to the Pinelands, including some carnivorous plants."
And since fish can't populate these ponds, because the ponds dry up as the region's shallow ground water table fluctuates, the established species in these areas would otherwise be protected. That security is wasted when motorists use the areas as their personal obstacle course.
The department has launched a pilot project to combat the problem. Wooden barriers are now surrounding four intermittent pond areas that have suffered some level of human-caused damage.
Along with the barriers, signs have been posted, warning vehicle users to stay away. Small gaps allow for pedestrian access.
"We're going to be monitoring these barriers to see how effective they are," Hajna said. "Part of what we're going to be doing is trying to gauge how long it takes for the pond to restore itself, to heal itself, after being driven all over."
The goal is to install more barriers within the forest, Hajna said. The department will be identifying other intermittent ponds that are considered to be "under stress."
The barrier effort includes a special Park Police unit dedicated to enforcement.
The department received assistance from environmental groups and nature-conscious off-road vehicle groups, among others.
More from New Jersey 101.5: