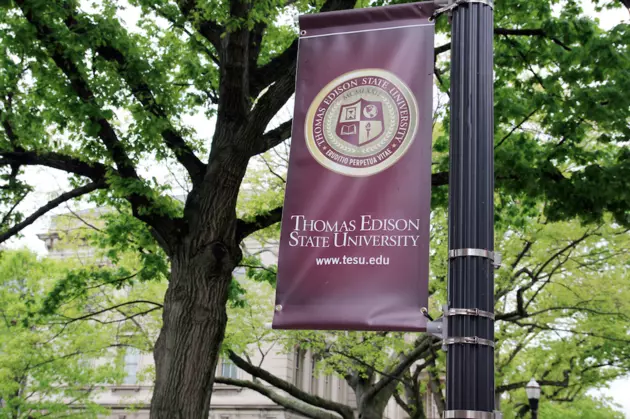 NFL players are enrolling in this NJ university to finish degrees
Photo provided by Thomas Edison State University
TRENTON — The institution may have no sports program, but Thomas Edison State University is making a strong effort to attract both current and former professional football players.
No, the faculty doesn't need security. And students don't need to be set straight.
Through a partnership with a global sports management organization, the college for adults is working to help past and current National Football League athletes finish their undergraduate degrees and transition into a career after exiting the gridiron.
"We run terms every single month, so a participant has the opportunity to stagger courses so it fits around their current lifestyle, whether it's playing professional sports or afterwards," said Mary Ellen Caro, vice president of the university's enrollment management and learner services, in an interview with New Jersey 101.5.
While it's their choice to pursue sports instead of schooling, many NFL players have been plucked from their respective colleges and universities a year or more short of attaining a degree.
Whether they're 30 credits shy, or 60, TESU crafts a unique game plan for each individual athlete in order to help them reach their educational goal, Caro said. The necessary schooling may be completed through a series of tests or online courses.
"Most do select online courses that we offer," Caro said. "They can complete it anytime, anywhere. These courses do not require you to be online at a certain time."
Terms at the baccalaureate level are 12 weeks long. NFL participants aside, the average student age at TESU is 35.
"We have students from all 50 states and countries around the world," Caro added, noting the institution offers over 100 areas of study.
According to Caro, two former NFL players are currently participating in the program. They entered right before the program was formally announced. Caro could not share the athletes' names, but past TESU degree-earners include NFL veterans Barry Foster, Jeremiah Trotter and Troy Vincent.
"Long after the playing experience ends, your education remains. It's often the degree of separation between opportunity and misfortune. Financial freedom is ultimately in your education," Vincent said in a press release.
Caro said TESU is planning to serve at least 25 current and former athletes in the first year.
The university's partnership with Brewer Sports International makes sure athletes are aware of the benefits available to them through the NFL Player Association Trust Program, such as reimbursement for tuition, fees and books.
More from New Jersey 101.5: