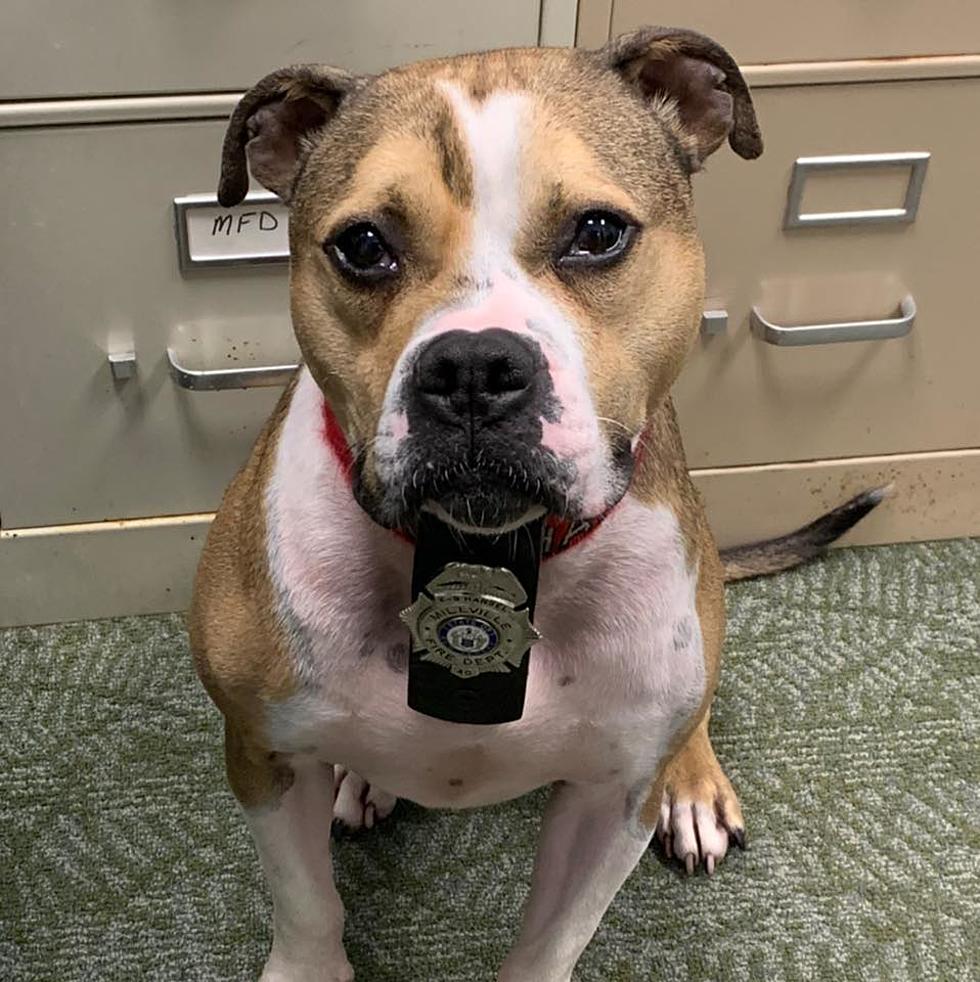 Millville Arson Dog Gets National Recognition By Winning Detection Dog of the Year.
K-9 Hansel- Facebook Page
The American Humane Hero dog awards are an annual competition the honors and recognize heroes on both ends of the leash.

The competition recognizes ordinary dogs who do extraordinary things. Hundreds of pooches compete but only one dog will be awarded the American Hero Dog title.
It's time to show some well-deserved props and big congratulations to Hansel, a 4 year-old-arson dog from Millville who came out on top as the nation's number 1 Law Enforcement and Detection Dog of the Year according to the Press of Atlantic City.
Hansel the pit bull with now advance to the finals of the 2021 Hero Dog Awards and will now compete for the American Hero Dog Title with 6 other canines and their human companions this fall. The two-hour show will be broadcast nationwide from Palm Beach, Florida on the Hallmark Channel.
K-9 Hansel was seized when he was only 7 weeks old from an alleged dogfighting ring in Ontario Canada. Hansel never fought and was scheduled for euthanasia. Hansel then found his way to the Dog Playing For Life shelter in Florida.
Next up for Hansel was intensive training including 16 weeks of scent training before winding up with the Millville Fire Department. One of Hansel's specialties is being able to recognize 14 different ignitable liquid odors.
Best of luck to Hansel and Millville Fire Marshall Tyler Van Leer who will now compete this fall for the 2021 American Hero Dog Title. You can vote for K-9 Hansel once a day until September 7th!
South Jersey's Most Adorable Pets That Will Melt Your Heart
South Jersey's most adorable and cutest pets submitted to us by listeners
LOOK: Here Are 30 Foods That Are Poisonous to Dogs
To prepare yourself for a potential incident, always keep your vet's phone number handy, along with an after-hours clinic you can call in an emergency. The ASPCA Animal Poison Control Center also has a hotline you can call at (888) 426-4435 for advice.
Even with all of these resources, however, the best cure for food poisoning is preventing it in the first place. To give you an idea of what human foods can be dangerous, Stacker has put together a slideshow of 30 common foods to avoid. Take a look to see if there are any that surprise you.
LOOK: Stunning animal photos from around the world
From grazing Tibetan antelope to migrating monarch butterflies, these 50 photos of wildlife around the world capture the staggering grace of the animal kingdom. The forthcoming gallery runs sequentially from air to land to water, and focuses on birds, land mammals, aquatic life, and insects as they work in pairs or groups, or sometimes all on their own.