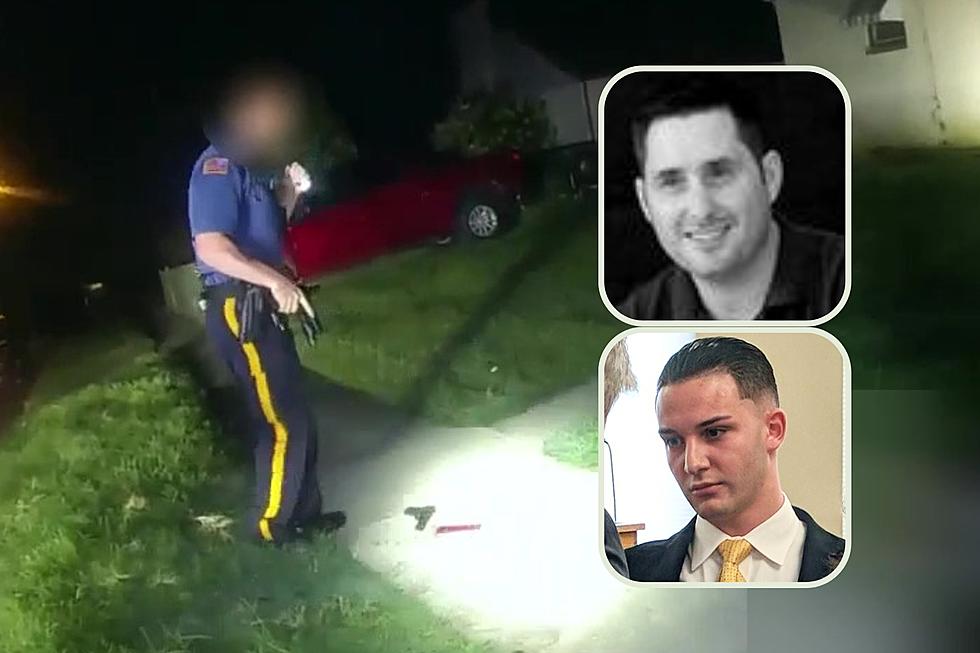 NJ cop who shot 911 caller to death charged with manslaughter
(OAG/Smith Funeral Home/Mantua police via Facebook)
👮‍♂️ A cop is charged with manslaughter for shooting a Mantua resident
👮‍♂️ The victim had called police to report a burglary at his home
👮‍♂️ Body camera footage shows the officer opened fire within seconds of arriving at the scene
---
MANTUA — A police officer is charged with manslaughter for fatally shooting a South Jersey homeowner and father who called 911 to report a burglary.
The Attorney General's Office on Wednesday announced that a grand jury had decided to charge Mantua police officer Salvatore Oldrati with manslaughter for the shooting over 20 months ago.
Charles Sharp III, 49, was still on the phone with a police dispatcher when he was gunned down on Sept. 14, 2021, according to Attorney General Matthew Platkin.
"When residents call 911 for service, they are concerned, they need assistance, they seek protection — and they trust the officers responding to their calls will respond accordingly and help them. Tragically, that did not happen here," Platkin.
👮‍♂️ Mantua man shot by police at his home
Around 1:30 a.m. on Sept. 14, 2021, Charles Sharp called police to report a pair of burglars at his Mantua home on Elm Avenue, according to the OAG. He told police dispatch that there were at least two burglars in his backyard, including one who had a handgun.
Authorities said that Sharp was still on the phone with dispatch and standing in his front yard when police showed up. In a recording of the call, Sharp tells the dispatcher that he had a .45-caliber firearm willed to him by his grandfather.
First, Cpl. Robert Layton got to the scene. Then, Officer Sal Oldrati arrived in a separate vehicle. As Oldrati got out of his police SUV, Layton shouted that Sharp had a handgun but the corporal did not open fire, according to the OAG.
Police body-worn camera footage released by the state shows that Layton then shouted at Sharp to "put the gun down." But before he could finish the command, Oldrati opened fire on the homeowner.
Within five seconds of getting out of his police vehicle and without giving any commands, Oldrati fired his gun seven times at Sharp, officials said. The Mantua man fell to the ground, then Oldrati shot six more times.
The officers administered medical aid to Sharp but was he pronounced dead at a hospital just over an hour later. Authorities said a replica .45-caliber firearm was found at the scene where Sharp had been shot.
New Jersey 101.5 has reached out to a defense attorney for Oldrati for comment.
🔵 Family left without father, brother
Sharp's obituary states that after growing up in Mantua, he served in the US Air Force for over 21 years. The avid outdoorsman was survived by three siblings and his son.
Sharp's brother, Christopher Sharp, told 6abc Action News that he reviewed the footage and believed the shooting would not have happened if there had been a greater effort to communicate.
"He didn't deserve what happened to him," he said. "There was no time to communicate with the other officer who he was in front of. It saddens me. I lost my brother over a judgment."
Report a correction 👈 | 👉 Contact our newsroom
Places in New Jersey where you can now carry a legal gun
New Jersey passed its own law in December, trying to ban legal guns from "sensitive places."
A federal judge has found many of those spots to be legally protected on the grounds of armed self-defense, noting in her opinion, "Crowded locations are not sensitive places."
Here's the latest on what is legally allowed.
Offbeat adventures: Travel to the coolest hidden wonders in every U.S. state
Fuel your offbeat travel dreams.
Stacker
found the coolest hidden wonders in all 50 U.S. states (plus D.C.) using data from
Atlas Obscura
.
[WARNING: Under no circumstances should you enter private or abandoned property. By doing so you risk bodily harm and/or prosecution for trespassing.]
LOOK: Here are the states where you are most likely to hit an animal
Hitting an animal while driving is a frightening experience, and this list ranks all 50 states in order of the likelihood of such incidents happening, in addition to providing tips on how to avoid them.