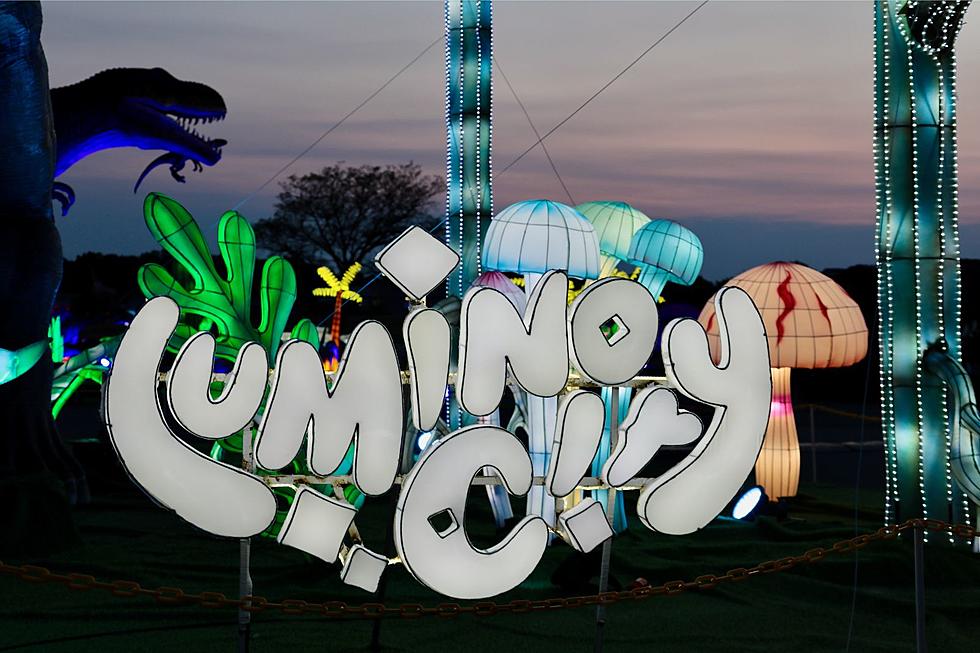 A prehistoric festival roars into NJ later this month
Dino Safari Festival (Meredith Bennett)
🐱‍🐉 A prehistoric immersive light festival comes to Freehold later this month
🐱‍🐉 Dino Safari Festival will feature 12 immersive experiences
🐱‍🐉 Tickets are on sale online only
---
If you or your family loves dinosaurs, then this festival is for you.
LuminoCity Festival, an immersive event that combines art installations and light sculptures has announced that its Dino Safari Festival, a prehistoric wonderland of light and imagination will journey to Freehold this fall.
Dino Safari Festival will be at the Freehold Raceway Mall from Sept. 21 through Nov. 5. from 4 p.m. to 10 p.m. daily.
The festival will feature 12 immersive experiences that will send visitors on a journey back in time to a prehistoric world, where they will encounter life-sized animated dinosaurs towering nearly 50 feet, cretaceous volcanic caverns, and illuminated prehistoric wonders.
Founded in 2019 by Xiaoyi Chen, Dino Safari was originally launched in Atlantic City and was recently in Rockaway, NJ.
"So, to be able to return to New Jersey (having been in Long Island, NY for a few months) for the Fall 2023 season is exciting for us. We are confident local residents and visitors alike will enjoy the new attractions and create long-lasting memories in our fun-filled educational adventure," Chen said.
New attractions this year include:
Oviraptor Express: This attraction allows visitors to become immersed in the light art experience while traveling through the park for an additional cost per ride.
Dinosaur Speedway: For an extra $5, this ride allows people to experience the thrill of racing around a prehistoric track.
Prehistorical Animal Light Arts: This unique exhibit showcases ancient creatures brought to life through intricately designed light sculptures that are illuminated and crafted to provide a glimpse into a forgotten era, blending art, history, and imagination.
Dino Paradise Bounce Castle: This massive 260-foot bounce castle is for kids and kids at heart. Cost is $18 and there is no playtime restriction.
In October, Dino Safari Festival will also have special seasonal Halloween décor including a large-scale light art display, where gigantic dinosaurs take on a ghostly glow, surrounded by eerie illuminations, and other elements to get you into the Halloween spirit.
Tickets are available online only here.
Report a correction 👈 | 👉 Contact our newsroom
Wow! Aaron Rodgers new home in New Jersey: Inside and out
Here's a look at New York Jets Aaron Rodgers' new Montclair home with 8 bedrooms and 9 baths — and sweeping views of the rest of New Jersey and the Manhattan skyline.