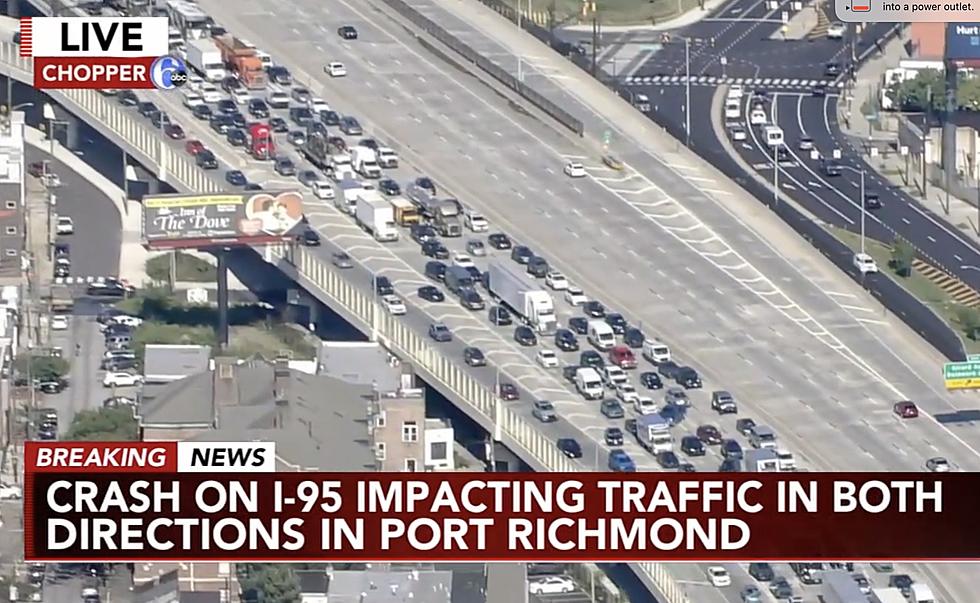 Absolute Gridlock on I-95 in Northeast Philly Snarls Thursday Evening Commute & Eagles Game
Chopper 6 via 6 ABC
We have bad news on I-95 if you're traveling in or out of Philadelphia this afternoon. An accident is snarling traffic in the area, and it looks like it will be out there for a while.
An accident, which was first reported around 2 p.m. near the Allegheny Avenue exit, involved a tractor-trailer. We're hearing the truck struck the barrier on the northbound side of the roadway and then overturned spilling a lot of debris into the southbound lanes. It's unclear if anyone was seriously injured.
As a result of the accident, however, the afternoon rush hour is at a basic standstill in and around I-95 as lanes remained closed on both sides of the highway with traffic getting by VERY slowly on the right-hand lanes only in both directions.

Of course, the afternoon rush hour tonight is coupled with increased volume ahead of the Philadelphia Eagles home opener at Lincoln Financial Field.
As of 4:45 p.m., delays heading southbound start near Cornwells Heights. On the northbound side of the roadway, delays start near the stadium complex. The Vine Street Expressway is also extremely delayed at this point as well.
This is a HEFTY delay for Philadelphia this Thursday night.