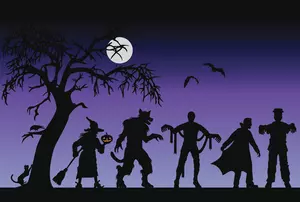 Hocus Pocus Sequel Has Been Confirmed
Paula Goulart, Thinkstock
Back in 1993, the Halloween movie Hocus Pocus was released and to this day is still considered a spooky classic.
Well after years of teasers and rumors, a Hocus Pocus sequel has been confirmed. A Disney Channel  spokesperson revealed that a second Hocus Pocus movie is in the works but is in very early stages. (Could you pleeeease hurry it up, I have been years for this!)
And more exciting news, they are talking of using some of the original cast! Bette Midler, Sarah Jessica Parker, and Kathy Najimy have all expressed interest in returning for a second film and now it could really be happening.
My biggest question is when the witches returned in Hocus Pocus, they preyed on children. If they are brought back to life, will it be after much more current texting zombified children or will the writers switch it up a bit?
Either way, I am PUMPED! Every Halloween season, my friends and I must watch Hocus Pocus and that tradition seems to have continued no matter which generation you talk to.
For more information on the announcement, click here.