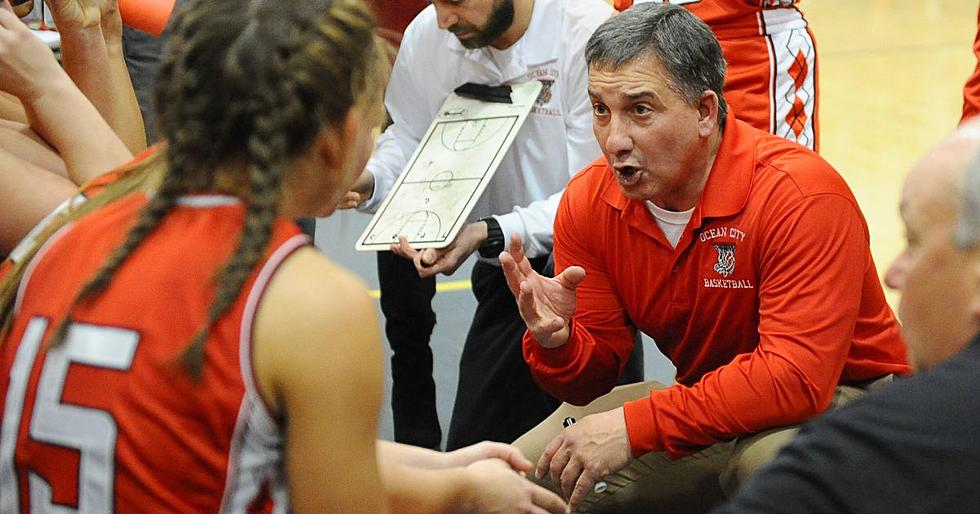 Former Ocean City Girls Coach Ready to Write Next Chapter of Coaching Career
Photo: ochssports.game.blog/
Paul Baruffi has always enjoyed the Gerry Matthews Court at Stockton University.
Nine times in the last 14 years he guided his Ocean City High School girls basketball team to the Cape-Atlantic League's championship game at Stockton, winning the title six times. That is more championships than any CAL coach in girls or boys basketball not named Paul Rodio.
Well, this week that court becomes Baruffi's new basketball home.

He was named one of two new assistant coaches to Stockton women's basketball coach Devin Jefferson. Baruffi and John Miller replace Richard Ziegler and Joanna Persiano as assistant coaches.
"I think this is going to be a real collaborative effort," Baruffi said. "I'm going to get a chance to teach the game, which is really what I like to do."
Baruffi retired as the OCHS girls coach at the end of the 2020-21 season. In 20 seasons, his Raiders were 429-129 with a 54-18 record in NJSIAA Tournament games and an overall record of 19-6 in the CAL Tournament. His teams won eight South Jersey championships, the most by any CAL girls coach, and won the school's only state title in the sport. He is continuing as an assistant football coach for the Raiders this fall and will retire as a teacher in December. His full coaching record is HERE.
"We met with the players last week," he said, "and they seem excited and ready to go." The roster includes 5-3 Kadinah Harris-Hood from Atlantic City and 6-1 junior Ionyonia Alves from Oakcrest. Plus there is a familiar player joining the Ospreys this season.
Grace Sacco, a multiple year all star playing for Baruffi at OCHS, has transferred to Stockton from Johns Hopkins, which did not have a womens basketball season in 2020-21. Sacco was a four-time first team all star in the CAL. She scored 953 points and made 513 assists in her four seasons with the Raiders.
"As coaches, we have met twice to come up with practice plans," Baruffi said. "We shared drill ideas and are going to run different ones at practice. We are sharing scouting duties and have a list of recruits we are all going to try to see."
Practice for the Stockton Ospreys begins on Friday afternoon, the season begins on November 6th at Drew University.
And another chapter of Paul Baruffi's basketball coaching career begins with it.
8 Things That Could Work at Bader Field