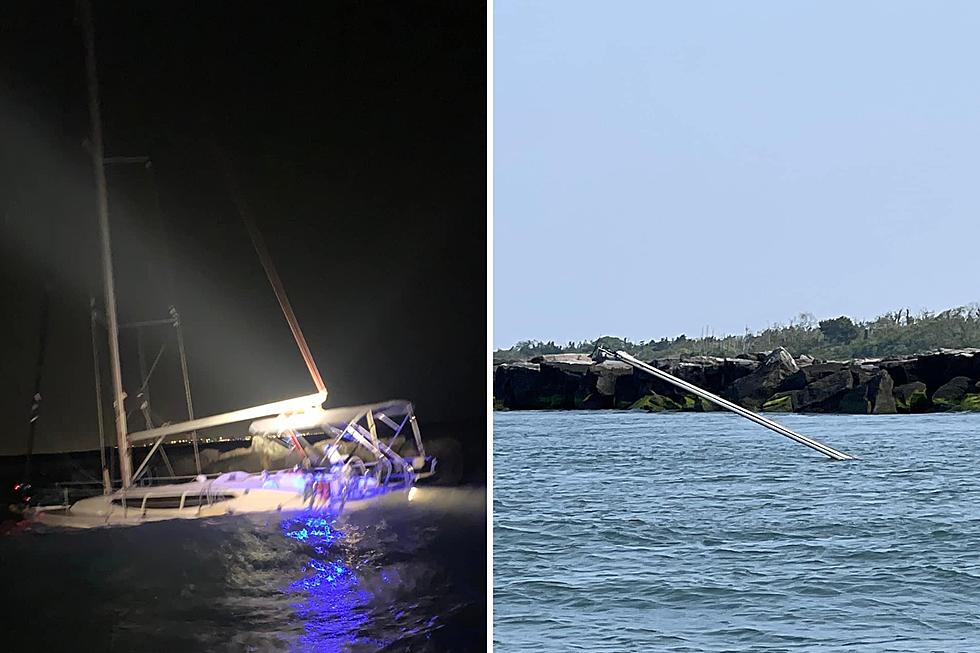 Coast Guard rescues 2 as sailboat sinks in Cape May, NJ Inlet
Sailboat sinks in Cape May Inlet 5/21/23 (Sea Tow Cape May via Facebook)
⛵ A sailboat struck a jetty returning to the Cape May Inlet
⛵ The Coast Guard rescued two boaters on board before it sank
⛵ A boat towing service tried to save the sailboat
---
CAPE MAY — The U.S. Coast Guard rescued a pair of boaters after their sailboat hit a jetty and began to sink Sunday evening.
Only the tip of the 33-foot sailboat's mast remained above water at the Cape May Inlet Monday morning.
The Coast Guard deployed a rescue crew after getting a call from Cape May County Emergency Management around 9:45 p.m., according to a spokesman.
The Coast Guard said that the crew took two people off of the sailboat and sent them to a local fire department vessel for any potential medical treatment. There were no reported injuries.
A local boat towing company, Sea Tow Cape May, reportedly went to the site of the strike but was unable to save the vessel. The Coast Guard stayed at the scene until Sea Tow arrived.
Report a correction 👈 | 👉 Contact our newsroom
The 30 best rated schools in New Jersey
Here are the top 30 schools statewide, based on their 2021-2022 New Jersey School Performance Reports — involving scores for language arts, math and attendance. (For an explanation of how the state calculates the "accountability indicator scores" and overall rating for each school,
see page 90 of this reference guide.
)
Biggest NJ company layoff notices in 2022 and 2023
In some cases, workers may be offered back their jobs or transfers to different locations.
Here's a look at more than a dozen of the biggest announcements within two years.
LOOK: Here are the states where you are most likely to hit an animal
Hitting an animal while driving is a frightening experience, and this list ranks all 50 states in order of the likelihood of such incidents happening, in addition to providing tips on how to avoid them.