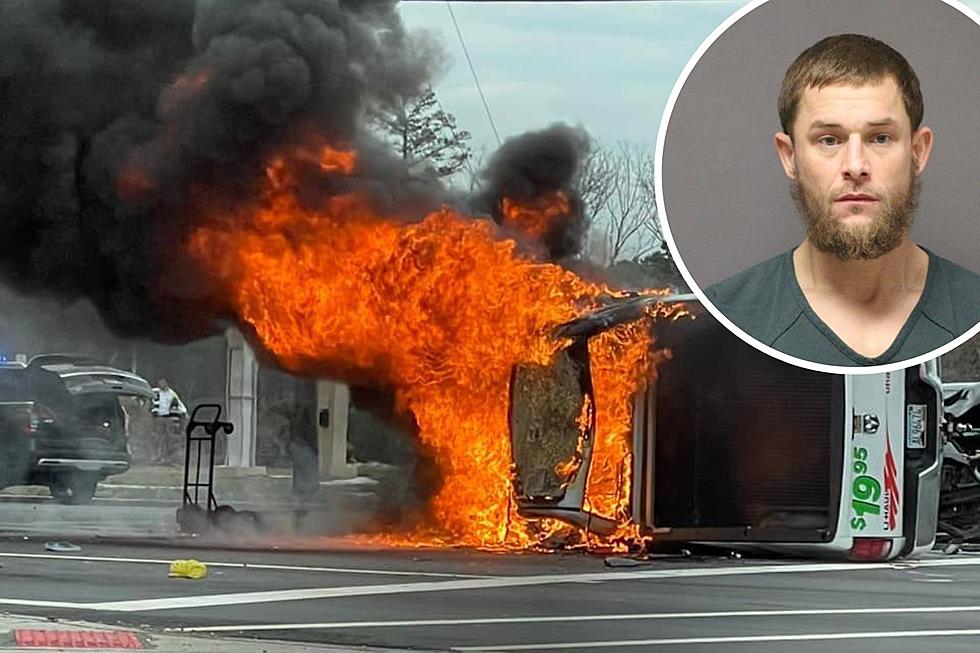 Child seriously injured after stolen U-Haul blows red light in Toms River, NJ
Crash at a Route 70 at Massachusetts Avenue in Toms River 3/23/23 (OCSN), Charles Sharkey (Ocean County Jail)
🔴 Charles Sharkey Jr., of Jackson, was using his cell phone, police say
🔴 The rental pickup was reported stolen
🔴 A child injured in the crash was hospitalized in critical condition
---
TOMS RIVER — Moments after an erratic driver was reported to police Thursday afternoon, a U-Haul pickup hit a car at a red light, overturned and burst into flames, seriously injuring a child in the car.
The driver, Charles Sharkey, Jr., 33, of Jackson, had taken the 2022 Dodge Ram 1500 pickup from a U-Haul rental location without permission, was driving on a suspended license and had two warrants out for his arrest, according to Ocean County Prosecutor Bradley D. Billhimer.
Billhimer said Sharkey was heading east on Route 70 around 4 p.m. while using his cell phone and did not stop for a red light at the intersection with Massachusetts Avenue in Toms River. Sharkey grazed the back of a 2016 Honda CRV and hit a 2017 Subaru Impreza as he tried to make a left turn.
The impact caused the Impreza to be pushed backward and spin around and the pickup to flip onto the driver's side and catch fire, according to Billhimer. A fourth vehicle, a 2021 Lexus RX 350, was also grazed.
Billhimer did not disclose the identities of anyone in the other vehicles.
A child in critical condition
The adult and children in the Impreza were taken to Jersey Shore University Medical Center. One of the children remained hospitalized Friday morning in critical condition.
Sharkey was taken to Monmouth Medical Center-Southern Campus in Lakewood. Police obtained a warrant to draw blood for a blood alcohol test.
Sharkey is being held at the Ocean County jail on four counts of aggravated assault, four counts of assault by auto, unlawful taking of a means of conveyance, causing death or injury while driving with a suspended or revoked driver's license and multiple motor vehicle summons. Additional charges could be added, according to the prosecutor.
Route 70 was closed in both directions for several hours Thursday afternoon.
Dan Alexander is a reporter for New Jersey 101.5. You can reach him at dan.alexander@townsquaremedia.com
Click here to contact an editor about feedback or a correction for this story.
How much your school district gets under Murphy's proposed 2024 budget
Gov. Phil Murphy's porposed 2024 budget includes $1 billion in new spending for school funding including pre-K funding, pension and benefits, and an additional $832 million in K-12 aid, which is listed below by county and district.
Up or down? Average property tax changes in NJ in 2022
Below are the average property tax bills for every municipality in New Jersey last year.
The towns are listed from the biggest cut in the average bill to the highest increase. On the county maps, the deeper red color means a higher increase above 2% whereas the darker green signifies a smaller increase or a reduction.
Each listing also shows how the average tax bill is split among the county, school and municipal governments.
Most affordable places to live in New Jersey
SmartAsset released a study analyzing the
most affordable places to live in New Jersey
. The eighth annual study weighed several factors, including taxes, homeowners' insurance, and home costs relative to the local median income.