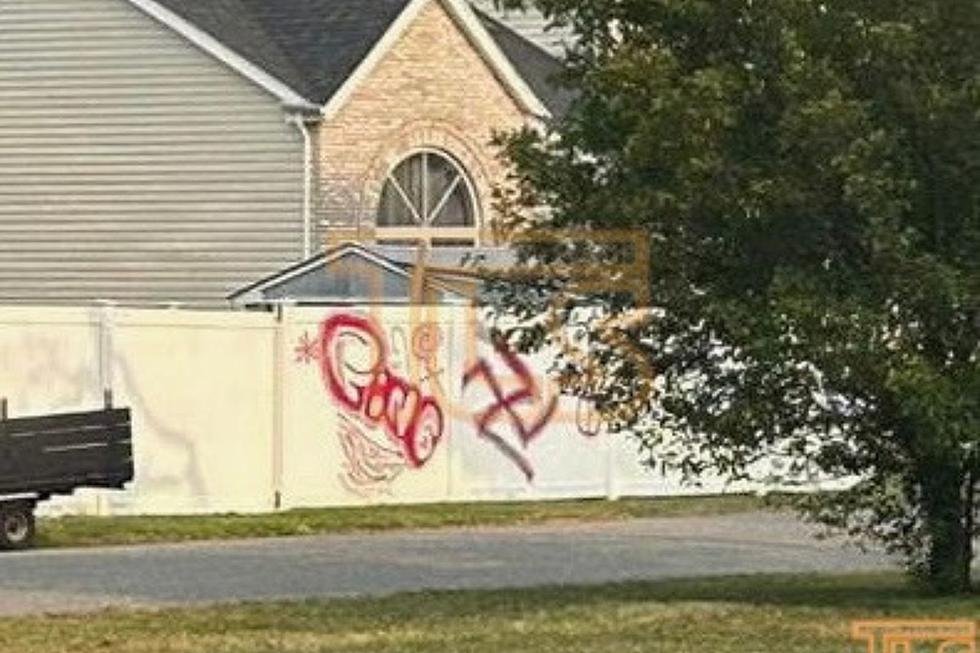 Arrest after swastikas painted on Manchester, NJ properties
Swastika painted on a fence in Manchester (The Lakewood Scoop)
🔴 Swastikas have been found spraypainted since Tuesday on homes and fences
🔴 A house was also set on fire
🔴 The Ocean County Prosecutor's Office is investigating
---
MANCHESTER — One person is in custody in connection with swastikas spray-painted on houses and fences.
Investigators also are looking into a suspicious house fire as a potential hate crime.
The Lakewood Scoop was first to report that "numerous" swastikas had been found Tuesday in Manchester. One photo shows the hate symbol painted in red on a glass door and another on the siding.
One person was taken into custody, according to Ocean County Prosecutor Bradley Billhimer and Attorney General Matt Platkin. Their identity and any charges were not disclosed.
Mayor Robert Araca in a statement said the swastikas were painted in the Pine Lake Park neighborhood. The fire was at a house under construction, the mayor said.
"As your mayor and neighbor, I am appalled by these actions and will not stand for such
harm done to any of our residents. I fully condemn acts of vandalism in our town, but
more specifically and emphatically, acts of vandalism fueled by hatred," Araca said.
The mayor expressed concern about the potential danger from the arson fire because of the Red Flag Warning issued Tuesday because of conditions conducive to quick spread of fire.
"I support the full prosecution of those responsible for these heinous crimes, as I would for any crimes alike. These actions have no place in our town, state, or country, and I will continue to advocate for unity," Araca said.
'Random acts of hate'
"Random acts of hate designed to instill fear and to violate New Jerseyans' sense of security and belonging, solely based on who they are and what they believe in, will be dealt with swiftly and harshly by law enforcement," Billhimer and Platkin said in a joint statement.
"Those who feel entitled to trample on their neighbors' rights to live in peace and exercise their constitutional freedoms will not find a safe haven in New Jersey."
Scott Richman, regional director of the ADL New York and New Jersey, said his group is "disturbed" by the swastikas.
"Swastikas send a message of fear and intimidation, and we must all make it clear that there is no place for them in our state. Thank you to law enforcement for investigating," Richman said in a statement.
New Jersey in 2022 had 408 confirmed hate crimes, the highest number of anti-Semitic incidents, according to a report by the ADL of New York and New Jersey. Ocean County had the most reported incidents with 62.
Report a correction 👈 | 👉 Contact our newsroom
NJ's crazy haze, choking smoke, and sinister sky