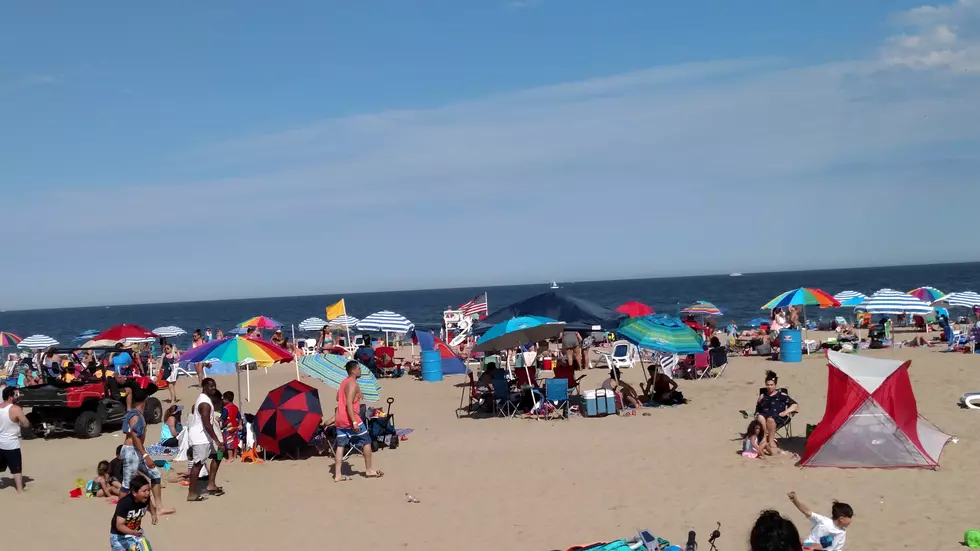 2021 Beach Tag Guide For Atlantic and Cape May Counties
TSM
I am so looking forward to the 2021 summer season and enjoying some fun in the sun. From Atlantic City to Wildwood, South Jersey is home to some of the most beautiful beaches in the entire country.
It's also never too early to purchase your beach tags for the 2021 beach season. Beach tags will be sold at window pick-up locations, through the mail, online, or through an app called VIPLY which will make your beach tag purchase contactless.
Beach tags are required on most South Jersey beaches between Memorial Day and Labor Day. Time is running out to get your beach tag at a discount. Most tags will increase after May 31st.
Here's a rundown on beach tag prices and information. Check back for more updates as we get closer to another summer season in South Jersey
ATLANTIC COUNTY:
Save now if you purchase your tag by May 31st. Tags are $20 but will go up to $25 on June 1st.
For 60-64 tags are only $8 through May 31st.
Children under 12 and seniors 65 and over are free
Beach Tag Office located at 265 42nd Street
Call 609-264-7350 Ext 7 for more info
You can save 50% on beach tags if you purchase by May 31st.
$10 and $3.50 for seniors
Regular season price at $20 starting June 1st.
You can purchase tags up at Ventnor City Hall during regular business hours at 6201 Atlantic Ave, Ventnor City.
Call 609-823.7904 for more info
You can save 50% on beach tags if you purchase by May 31st.
Pre-season tags $10. $3.50 for seniors
Starting June 1st all tags increase to $20
Tags available at the Martin Bloom Pavilion- Monday -Friday 10 AM to 3 PM
For more tag info call 609-822-2605
Veteran tags are available at the Longport Community Building located at 33rd and Atlantic Avenues.
Beach tags available from any beach tag inspectors and at Beach Patrol Headquarters located on the 33rd beach after beach season opens for 2021 on or about the third weekend in June
Call 609-823-2731 for more tag info
Cape May County
$25 season if purchased before May 31
$30 season
$13 weekly
$6 daily
Purchase tags at Avalon Tax Collectors Office at Borough Hall. The beach tag booth at Community Hall starting April 3rd weekend 10 AM to 4 PM daily beginning May 1st.
Call 609-967-7587 for more info
Seasonal beach tags $30 through Labor Day 2021
Weekly $20
Daily $6
Starting Memorial Day tags can be purchased at Kiosks on the Promenade- Broadway, Gurney St, Howard St, Madison Ave and beach entrances
Call 609-884-9525 for more info
The preseason rate is $33 until May 31st.
Seasonal $40
Weekly $25 (sat-Sun)
Daily $10
Call 609-884-8468 x22 for more info
Tags are on sale now with a discounted price of $20 until May 31st, 2021.
Starting June 1st, tags increase to $25
Call 609-399-611
Daily $5- Sat & Sun $10
$20 if purchased by May 15th  $25 after the 15th
Wednesdays are FREE BEACH DAYS except for July 4th
Seasonal beach tags are on sale at the City Hall Tax Office, 233 JFK BLVD, 2nd floor
Monday to Friday 9 AM to 4 PM except for holidays
Seasonal beach tags are on sale at the City Hall Tax Office, 233 JFK Blvd., 2nd Floor, Monday to Friday, from 9:00 a.m. to 4:00 p.m., except holidays.
$25 pre-season $30 after May 31st, 2021
$13 Weekly
$6 Daily
Purchase and pick up at the Stone Harbor Beach Tag Office- 95th and the Beach
Call 609-368-5102 for more info
Check back for more updates!
source: jerseyfamilyfun.com
South Jersey Pre-Pandemic Photos
KEEP READING: Here are the best places to retire in America