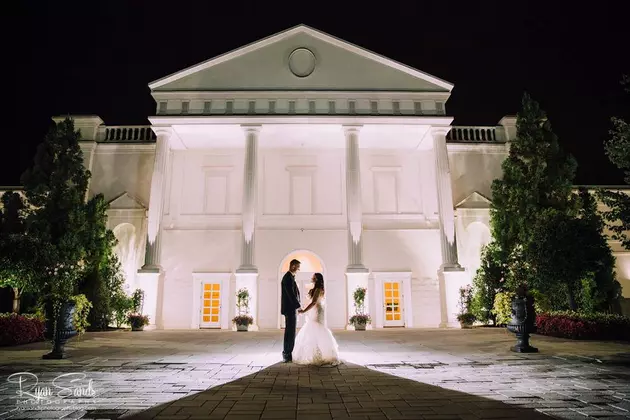 Headed to a Jersey Wedding in 2017? A Lot Has Changed
Photo provided by The Palace at Somerset Park
Hold the ceremony at a church? Don't waste the guests' time. Disposable cameras on the tables? That's so last decade.
Weddings have undergone a major shift in New Jersey, and elsewhere, as brides and grooms battle to make their special day as unique and memorable as possible. After all, the whole world can see their multi-thousand dollar party once the pictures and video are posted online. So they have to stand out some way.
According to Jose Russa, director of catering for The Palace at Somerset Park, many "cookie-cutter" staples of your classic wedding still exist, but with a twist. Personalization is the key to wedding success for many couples, and they have plenty of ideas before even booking a venue.
Table numbers have even gotten a makeover at some receptions, Russa said. Instead of being directed to sit at table 1 or 5, guests will be placed at tables labeled with destinations the couple had visited over the years, for example.
A specialty cocktail or two for the night — unheard of years ago — is commonplace in 2017. These cocktails could be indicative of a special moment in the couple's history, such as the first drinks they shared at a bar.
"It's no longer coming in and saying, 'I'd like a wedding; it's a nice place, I'll have it here.' Now it's about how to personalize the wedding to make it special, make it different," Russa said.
But these lovebirds aren't coming up with all the ideas on their own. Social media platforms such as Pinterest allow brides to mine ideas from other nuptials around the country and globe.
Up to 75 percent of the Palace's weddings today feature on-site ceremonies, Russa added. Ten to 15 years ago, at least half of their couples and guests trekked over following a ceremony at a local religious institution.
"The modern bride's kind of looking more for a streamlined event and less moving parts," Russa said.
Don Calello, general manager of Clarks Landing Yacht Club in Point Pleasant, said drones have become a popular sight at their waterfront venue.
"A lot of our better photographers use drones to capture mainly an outdoor ceremony or people arriving or pictures of the venue," he said.
While hired photographers are still an automatic for couples, many memories are captured indoors by the guests themselves. Guests are encouraged to flaunt their photos on the web using a creative hashtag that's commonly posted by the newlyweds at the entrance to the venue or the bar.
"We've gone far away from the trend of putting disposable cameras on all the tables and collecting them at the end of the wedding," Calello said.
The traditional toss of the bridal bouquet has experienced a bit of a tweak at some Clarks Landing weddings, Calello noted. With folks getting married at a later age, there are fewer single guests in attendance, so all women are encouraged to make their way onto the dance floor — not just the single ladies.
More from Lite Rock 96.9: